Friday, November 16, 2012
/lk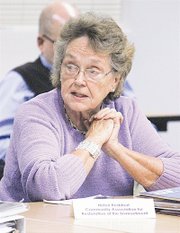 Personal feelings had to be put aside, urged by the group's facilitator, to get the job done.
Members of the Lower Yakima Valley Groundwater Management Area Advisory Committee split off in smaller groups this past Thursday evening in Sunnyside to begin a plan to reduce nitrate contamination concentrations in groundwater that exceed state drinking water standards.
Before the groups began their work, however, a good portion of the meeting was spent discussing whether or not committee member Helen Reddout, who represents the Community Association for Restoration of the Environment (CARE), should resign from the committee due to a perceived conflict of interest.
Sunnyside area dairyman Jason Sheehan said Reddout, who with the CARE group has announced intent to sue local dairies, should resign from the committee.
"We are supposed to be here for a common goal...but the CARE group is taking matters into (its) own hands," Sheehan said.
Reddout responded, saying it wasn't a conflict of interest to try and help those being harmed by pollution.
"I have no intention to resign," she added.
Several committee members commented on the matter, some agreeing with Sheehan and some agreeing with Reddout.
Group facilitator Penny Mabie said the group should stay on course, and recognize committee members have different perspectives. Mabie asked committee members to recommit to the group's objectives, and gave each member the chance to respond to the recommitment request. Most members said "yes," while others explained they would agree, but gave their hesitations on the matter.
"Some information may come out that'll be used the wrong way," a committee member said.
Mabie said she had concerns about the group, herself.
"It's a struggle to get a group to work with this level of distrust," she said. "I encourage you to set aside some of your filters, and remember we are all here for the same reason."
After the group collectively agreed to recommit to the operating guidelines, the committees began working on a tangible plan to help reduce nitrate contaminates.
Work groups focused on areas of livestock and dairies, irrigated agriculture, residential, commercial, industrial and municipal areas and the education of the public on these matters.
The group, according to Mabie, is nearing its deadline to finalize a work plan that will be headed to the Department of Ecology for approval. The committee is eyeing the end of 2014 to implement this plan.
The Lower Valley Groundwater Advisory Committee is scheduled to approve each work group's plan at its next scheduled meeting on Wednesday, Dec. 12, beginning at 4:30 p.m. at the Denny Blaine Boardroom in Sunnyside.
Next month's meeting was decided by the committee last night to last a total of three hours, until 7:30 p.m., in order to adequately review work plans for a proposed groundwater management area in the Lower Valley.