Thursday, November 15, 2012
/lk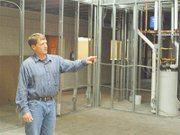 It comes down to a matter of priorities, that's how SVID Manager Jim Trull describes progress on the district's remodel of a field office at 1105 Yakima Valley Highway in Sunnyside.
The site, formerly Bieber Brothers Fashion Floors, was purchased three years ago for $550,000 with a focus on meeting SVID's expansion needs.
Last week SVID's board received an update on construction progress at the 13,400 square-foot building.
Trull said the message to the board is that the pace of work will slow in 2013 and 2014.
"What we really needed at first was room for our engineering group and we got that completed right away," Trull says. "The rest of it is not on a required time frame, we'll move on that as time allows."
SVID's planned upgrades at the field office have a value of about $220,000, according to a building permit the city issued earlier this year.
Work in 2012 has included roof repairs and installing a HVAC system.
Trull said plans to construct a new training/meeting room have been put on hold for the time being, along with construction of a lab.
He said a tight construction budget for 2013 means those two final pieces of the field office project likely won't be completed until 2014.
Ron Cowin is SVID's assistant manager-engineering, and he said work wrapping up now at the field office involves an enclosed hallway that that leads to the conference room. Cowin noted that the "footprint" of the conference room - which will host everything from board meetings to classes for first aid and flagging - is in place as the room has been framed.
"You can see where the conference room is," said Trull. "We're not as far along as we'd like to be, but it's where we are."