Wednesday, November 14, 2012
/lk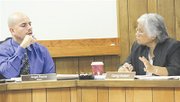 MABTON - City council members in Mabton last week began chipping away at items on the 2013 budget to help narrow the $145,000 deficit.
Last week, preliminary numbers showed revenues for the city of Mabton totaling about $1.9 million in 2013. Expenditures for the next calendar year were predicted to total around $2.06 million.
After hearing the difference in projected revenues and expenditures, Mabton council members began looking at the detailed numbers during a special budget workshop session last week to find ways to even out the numbers.
A second public hearing during the budget completion process was held last night, Tuesday, with no Mabton residents in attendance. The next budget workshop, scheduled for Tuesday, Nov. 20, at 6 p.m. will give the council members a clearer look at what they might want to cut from the 2013 budget, says Mayor Angel Reyna.
"We'll have a better idea next week on what we want the budget to be (for the next year)," he said.
Reyna is also optimistic that the council will still be adopting the budget at its next regular meeting, to be held on Tuesday, Nov. 27.