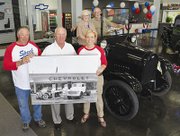 Lorraine (Jewell) Kean remembers slowly driving her father's 1919 Chevrolet truck down the rows of the family farm on Emerald Road. as he loaded produce for the trip to town.
That was around 1930 when she was about 10 years of age. Kean never did get her driver's license in all her 91 years, but Thursday afternoon at the C. Speck Motors showroom in Sunnyside she beamed with enthusiasm sitting alongside her son Jim Kean in her father's fully-restored truck, which is now owned by C. Speck Motors.
Katy (Speck) Moore knew the truck existed and was originally owned by Fred and Pearl Jewell, a pioneer family who had farmed 20 acres on Emerald Road. She had also made arrangements to purchase it from former Sunnysider Paul Alderman.
It wasn't until someone read the obituary of Kean's oldest sister, Thelma Maier, who recently passed away at age 100, did they realize that there were still members of the Jewell family residing in Yakima. That realization led to a phone call from C. Speck Motors staff to Mrs. Kean.
"I was surprised anyone knew where it (the truck) was at," said Kean. She then proceeded to surprise the Moore and the Speck family by showing up at the showroom this past Thursday afternoon with her son Jim and daughter-in-law Kim.
One of the many photos that Moore had enlarged for the dealership's 100th anniversary celebration shows her great-grandfather Clayton Speck standing beside the 1919 one-ton truck. Beside him is Fred Jewell standing next to what appears to be a newly purchased 1947 Chevrolet truck. What no one knows for certain is whether or not the 1919 truck was used as a trade-in on the new purchase.
No matter the circumstances, the fact remains that the truck, which was billed as a Chevrolet Model - "T", was purchased at the dealership in 1919, driven by Lorraine Kean as a child and restored as part of a collection by Paul Alderman and it had come full circle to again be on the showroom floor shining like the day it was sold.