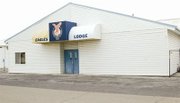 Spring may be here, but building starts in the city of Sunnyside continue at a slow pace.
During the month of April, city officials issued just 11 building permits with a combined valuation of $34,398, netting $1,467 in permit fees for Sunnyside city coffers.
The only bright spot is the April totals actually reflect a slight improvement over March 2012's totals, when the city issued only eight permits with a combined valuation of $31,859.
Three of the permits given the green light last month were for re-roofing projects. In fact, the biggest project approved in April was a re-roof and repair for a building in the 1700 block of Gregory Avenue that suffered water damage. That project is valued at $12,996.
City officials also gave thumbs up to two building projects that involved repairing damage caused by vehicles. Those projects, one in the 1500 block of Yakima Avenue and the other the Eagles building on South Hill Road, have a combined valuation of $9,200 and garnered $230 in fees for the city of Sunnyside.
Sunnyside also issued one commercial-related building permit in April. That was for a sign to be installed for a business in the 1600 block of Morgan Road.