Wednesday, March 28, 2012
/lk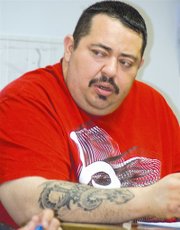 MABTON - As summer rears its head, Mabton area residents are out on the streets more frequently walking their dogs and enjoying the sunshine.
Mabton City Council, the police department and public works employees are collaborating to make Mabton's community aware of the city's animal control regulations.
Mayor Angel Reyna says it's important for city employees to become proactive about the ordinances to ensure safety for the entire community.
At Tuesday night's Mabton City Council meeting council members reviewed current dog ordinances and discussed changes and revisions.
Though most residents should be aware of the requirement for dog licenses and the fines associated with not having the proper paperwork, they may not be aware of the restrictions of animals running "at large" on the streets.
The ordinance states, "It is unlawful for any dog, whether licensed or unlicensed, muzzled or not muzzled, to run at large in the city."
A dog is considered by city officials to be "at large" if it is not restrained by a "suitable" leash that is not longer than six feet. The leash must also be under control of a person who is physically able to control the animal. In addition, a dog weighing more than 40 pounds is required to wear a "restraining device" to prevent the dog from biting.
The council revisited the fines associated with violations to the current animal control regulations.
Currently the fines are set from $50 to $275, based on first, second, third and subsequent offenses.
Mabton Police Chief Rick Gutierrez said last week the police department impounded a dog after the animal bit an area resident. This was the second offense committed by this dog.
He said when issuing fines, some residents somewhat chuckle at the small amount of $50.
"Raising the amount of that criminal offense will put some responsibility back on the owner of the dogs," he added. "It'll send a strong message; it's going to cost you."
Gutierrez suggested amending the ordinances to give officers room to issue fines between $100 and $500, with the amount issued determined by the police on the case.
"It will be on a case by case basis," Gutierrez said.
Councilman Mario Martinez agreed, "It is our responsibility to take action before something really bad happens."
The council motioned to authorize the city attorney to draft an amendment that council will vote on in the coming council meetings.