Friday, March 16, 2012
/lk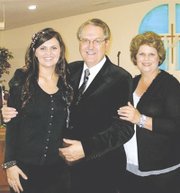 MABTON - The Jim Arneson Family Revival group will be the featured performers at this month's gospel music jamboree in Mabton.
The group is made up of Jim Arneson, wife Cheryl and daughter Aimee.
Arneson has 50 years of professional southern gospel music experience, including singing bass for the Crossroads, who were often the opening group for quartets such as the Kingsmen, Booth Brothers and more.
He has toured in Washington, Oregon, California, Idaho, Montana and Canada. Arneson has also been the promoter for many gospel musicians throughout the Yakima Valley and Tri-Cites.
"There is something about a family making music together to the king of kings," says Arneson.
The monthly gospel music jamboree is open to the public and is set for Sunday, March 18, from 2 to 4 p.m. at the Grace Brethren Church in Mabton.
The jamboree takes place every third Sunday of the month and is free of charge (but donations will be accepted). In addition, interested musicians are encouraged to participate at the open microphone event.
Other regular musicians participating in the monthly event include Heartstrings, Joyful Noise, Doug Diamond, Cale Moon and more.