Tuesday, June 26, 2012
/lk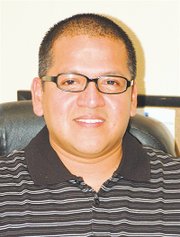 Working with the area's disabled is something in which Albert Almanza has a passion.
And growing up involved with a brother who had a disability, the passion comes from a personal place.
This past December, Almanza, 44, was named the EnTrust Community Services South Area Manager, with offices in Sunnyside and Kennewick.
Almanza grew up with a migrant family, and because of liberal labor laws he began working the fields at the age of 10.
"I got a lot of my character out of that," he said.
Almanza grew up all over the United States, but settled in Toppenish with his wife and six children. At the age of 16, he set off to support his family and earned his GED from Washington State University. He's currently working towards a Bachelor's degree in social services.
He says, in addition, his early years as a migrant farmer has really taught him to understand the families in the area, especially those with disabilities.
EnTrust works to grow and develop individuals with disabilities. A few of the services provided at the agency are educational courses to help clients integrate into society with a deeper level of education than that provided at the primary and secondary educational levels.
"Learning how to make eye contact, write and those sorts of things are what we teach," he said.
Adding to his personal passion was a statistic released by Princeton University. He says the study revealed there are nearly 18,000 post high school colleges and training schools in the United States. Of those, just 20 institutions nationwide offer a certificate or degree to people with disabilities.
"That is really motivating to get something going," he said.
Almanza says during his time as the area manager at EnTrust, he'd like to see the agency offer post-high school education courses.
"Maybe even a community college with a focus towards individuals with disabilities," he said. "I'm hoping that will be my 'stamp' in life."
He says a common mistake when working with an individual with a disability is to see their disabilities as a heavy bag sitting next to them.
"No, it's part of you, it's part of who you are," he said. "We work with the people, not around their disabilities."
As the new area manager, Almanza works with the staff at EnTrust, oversees the services given and explores funding opportunities for the agency. He says more than 15 years of experience in social services and 10 years of foster parenting has well prepared him to take on this new dream job role.
He says the agency is looking to delve into new grounds with funding sources. Primarily, the agency is funded through government grants and the like, but now, they are extending their reach and looking to collaborate with other existing agencies as well as private donors. With budget cuts and downsizing to consider, Almanza is a cut above the rest when it comes to getting creative with funds available.
For more information about the services offered at EnTrust in Sunnyside or to request donation information, call (509) 839-8066.