Wednesday, June 20, 2012
/lk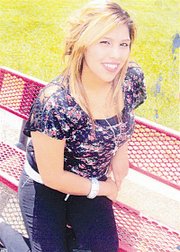 Maria Elena Sosa of Sunnyside will compete later this summer for the National American Miss Teen crown.
Sosa graduated from SHS this month with a GPA above 3.0.
Her educational background also includes completing a physical therapist tech program at YVCC.
The National American Miss Pageant for Washington state will be held Aug. 9-13 in Tacoma. Sosa is a finalist in the teen division.
The daughter of Maria J. Prieto, Sosa was previously a candidate for the Miss Sunnyside crown for 2010-11.
Her activities include being a member of Skills USA and serving in a student leadership role for the Washington Sports Medicine Association.
Sosa is employed at Eagle Rehabilitation of Sunnyside. Her sponsors include Eagle Rehabilitation, as well as Sunnyside Physical Therapy Services.