Friday, June 15, 2012
/lk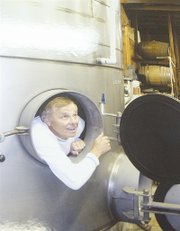 Tucker Cellars of Sunnyside is throwing a birthday bash next month to celebrate the 30th anniversary of its first release.
Since the release of that Chenin Blanc in 1982, Tucker has grown right along with the expanding wine market in the Yakima Valley.
Back in 1982 Tucker Cellars was one of just four wineries in the Yakima Valley. Today the number stands at 76.
Standing out in an increasingly crowded field isn't easy, and owner Randy Tucker says the key to success for his family's winery is variety.
He says when the winery started it only offered two wines, the Chenin Blanc and a Riesling. Tastes have changed from 30 years ago, and Tucker Cellars has too.
Today the winery offers a wide choice, from Syrah to Muscat, from Viognier to Chardonnay.
"The problem with only having one or two varieties is that if people didn't like the taste you were limited," Tucker says.
The drive to diversify started with Tucker's father, Dean, who gravitated to grape growing and eventually wine making as the beet market here dried up.
Tucker, whose grandfather worked for Upland Winery near Sunnyside back in the 1930s and 1940s, continues that willingness to experiment.
An example is a Cabernet he introduced that includes blackberries. It's called Black Cab.
Tucker has also won awards for a dry wine he's created that relies on oak chips instead of oak barrels.
The idea is similar to brewing a cup of tea, only instead it's a 7 lb. bag of oak chips steeped in a wine tank. The result is a dry wine that tastes a bit lighter and costs just 10 percent of what it would be to make the wine in an oak barrel.
Good wine - and family commitment - are the hallmarks of Tucker Cellars.
You generally won't find their wines at Costco or the big box stores, as Tucker relies on a longstanding customer base committed to the family winery.
"Seventy percent of our buyers are from Seattle and we're not in a lot of stores," Tucker says. "We rely a lot on tasting room sales."
That means Randy and wife Debra are succeeding by staying small, offering the personal touch between wine maker and consumer, between grower and costumer.
Speaking of Tucker Cellars and its tasting room at 70 Ray Road, it will be the site for the 30th anniversary celebration set for Saturday, July 7, from 11 a.m. to 3 p.m.
The event will include light foods, birthday cake and three new releases of Chardonnay, Pinot Gris and Black Cab.