Tuesday, July 24, 2012
/lk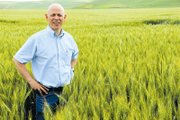 The Washington Grain Commission has selected Glen Squires as the organization's next Chief Executive Officer.
Squires, who has worked for the Washington Grain Commission and its precursor, the Washington Wheat Commission, for 19 years, was one of four candidates who were interviewed for the job.
Tom Zwainz, chairman of the commission, said Squires has the attention to detail as well as the vision required to lead the commission into the changed world of wheat farming.
"Glen's selection as CEO is recognition of his abilities in dealing with the state regulations the Washington Grain Commission operates under as well as a broad understanding of the international wheat trade," Zwainz said.
"In addition to his overseas activities, the commission has made it clear we want him to concentrate on creating an even more effective relationship with the Washington Association of Wheat Growers."
Under the organizational structure, Squires will be responsible for Washington Grain Commission and Washington Association of Wheat Growers staff and serve as leadership of both organizations.
"I look forward to the opportunity to continue to serve Washington's small grain farmers," Squires said, adding that the solid foundation he is inheriting will serve as a springboard to even greater accomplishments in the future.
"We are on the cusp of major changes in the Eastern Washington wheat industry," said Squires.
"The influx of private breeding companies into the state, new diseases and pests, added regulations and environmental controls as well changing market dynamics will require all our best efforts. I'm excited by the challenges and believe Washington is particularly suited to take advantage of the wheat industry's changing landscape."