Monday, January 30, 2012
/lk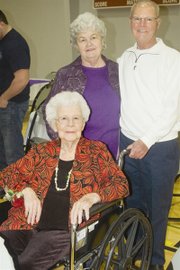 One hundred years after being born in Campbell, Ark., Mildred Maxey Moran celebrated her birthday surrounded by friends and family at the Sunnyside Community Center last Saturday afternoon.
Four generations of her descendants showed up at the 100th birthday party, which was also attended by Moran's numerous friends from her 67 years in Sunnyside. People came from as far away as Arkansas to celebrate her centennial.
Moran was the fifth of six children. She had three children of her own, two still alive. Both were at the big party.
Her son, Jim Maxey, is the youngest and said the family moved to Sunnyside in 1945, just after the war. They came to Sunnyside at the suggestion of Moran's brother, who said there was work to be found locally. Moran's husband was a carpenter who was eventually hired at Hanford.
Her daughter Wanda married Frank Schilperoort and talked about how her mother had worked all her life, first setting linotype at a printer and then working in canneries and out in the fields after moving to the valley.
"She's a tough woman," said Wanda Schilperoort. "She had to carry water for cooking back when she lived in Arkansas. She's always been a hard worker."
Schilperoort described her mother as a great cook and a quilter, as well. Moran never had a driver's license.
Moran's grandson Tyler Schilperoort tallied up the descendants, coming up with nine grandchildren, 19 great-grandchildren and 23 great-great-grandchildren.
"She has a heart of gold," said Pat Maynard, who also said she's known Moran
"forever."
Maynard was one of many local friends who were at the party, as was Jack Moran, who married Mildred in 1998. The marriage is, by all accounts, a big success.
"They came to church in coordinated outfits," said Connie Spilles, a family friend. "They were love-birds, so clearly happy with each other."
Jack Moran, now 93, said the two of them play bingo at Sun Terrace, where they live.
"We have a good time," he said. "The only cross word is the puzzle."
Mildred Moran was pleased with the party, and surprised.
"I didn't know so many people liked me," she said. "It's just the greatest thing."