Friday, January 27, 2012
/lk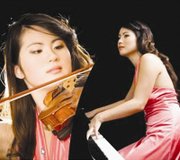 Normally to attend an Anita Chen concert, you would need to travel to New York City's Carnegie Hall.
But for one evening only, Friday, Feb. 3, Chen will perform at the Sunnyside High School auditorium at 7:30 p.m.
Chen is one of the rarest talents in orchestra music: she is equally adept on two instruments, the piano and the violin.
She started her piano studies at age 4, and added the violin at age 5. Chen has always been considered a child prodigy on both instruments.
She entered The Juilliard School of Music N.Y., Pre-College Division at age 7, as a piano major student of Dr. Antonio Fermin. At that same age, she was the winner of her first violin competition with the New Jersey Music Teachers Association.
By age 8, she performed her first piano and violin concert at Rutgers University's Nicholas Music Center in Newark, N.J.
By age 10, Chen passed the violin entrance audition for Juilliard, and in 2002, at age 11, she launched her career as a professional soloist at Carnegie Hall, where she performed on both the violin and the piano with the St. Luke's Chamber Orchestra.
In 2006, she made her recording debut on the Bel Air Music BAM label with Russia's Moscow Philharmonic Orchestra under Dmitry Yablonsky, featuring E. Grieg's Piano Concerto, and J. Conus's Violin Concerto and "Formosa Capriccio" by Albert Markov.
In addition to her performances in the United States, Chen has participated in music festivals in France and Spain. In 2007, she toured across Italy and performed a solo recital in Mexico as part of the Parnassos concert series.
She opened the 2008-09 concert season as orchestral soloist with the Bridgeport Symphony under Gustav Meier performing Mozart's Piano Concerto No. 21 followed by Paganini's Violin Concerto No. 1, in an arrangement by Fritz Kreisler, the Austrian-born American violinist and composer.
Returning to Carnegie Hall in 2009, at age 18, Chen made her recital debut in a program featuring Cimarosa, Mozart, Schubert, Liszt, Prokofiev and Markov, performing the first half of the concert on piano and the second half on violin.
The sell-out Carnegie Hall audience responded with a shouting and stamping ovation, plus a pile of floral tributes. The audience was rewarded with a piano and violin encore of which New York's music critic Edith Eisler wrote, "The concert aroused admiration, but also two disturbing questions: 'Is being a prodigy on one instrument no longer enough to attract attention? And will future prodigies have to equal this double whammy?'"
Critics say Chen plays with style, warmth and imagination whether it's Mozart (who also was equally adept at both instruments) or Saint-Seans. On piano or violin, she rewards her audiences with performances that are impressive and inspiring.
Critic Julian Haylock of "The Strad" wrote about her violin performance, stating, "Her tone is both alluring and sensuous," and about the piano, "Her inspirational account of the Grieg Concerto exudes confidence in all departments."
Robert Matthew-Walker of the Record-Review in 2007 said about her Grieg performance, "(I)t is a most enjoyable, clean and fresh performance" and "her playing of Conus's Concerto is also excellent."
Chen is quickly becoming an internationally recognized double-treat on both the violin and piano. Expect a brilliant performance of classical selections.
The Lower Valley Community Concerts Association celebrates its 65th season with this concert.
Adult season subscriptions for the entire LVCA season cost $50, and a family season subscription for two adults and two students costs $105. Student subscriptions are $15, and students up to 18 years of age may attend one performance for $5.
Without an annual subscription, adults may attend an individual performance for $30.
For more information, call Liz Donaldson in Prosser at 509-786-3070; Jean Corliss in Grandview at 509-882-1668; Barbara Skinner in Sunnyside at 509-839-5222, or Carlina & Jorge Lobos in Zillah at 509-829-6596 (also in Spanish).