Wednesday, January 18, 2012
/lk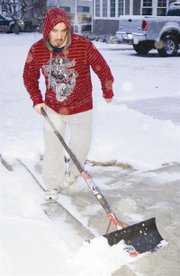 Much of the state, including the Lower Valley, is experiencing snow and more storms are on the way. The possibility of power outages brings a warning by the state health department against using barbecues or generators indoors for heat.
Each year in Washington, dozens of people get sick and die from carbon monoxide poisoning. And many are hospitalized for carbon monoxide exposure.
During power outages, carbon monoxide poisoning is a major concern when people use charcoal briquettes or generators indoors as a heat source.
Carbon monoxide is a poisonous gas that can't be seen or smelled. It can kill a person in minutes. Carbon monoxide is produced whenever any fuel such as gas, oil, kerosene, wood or charcoal is burned. Carbon monoxide builds up so quickly that people are overcome before they can get help. Every home should have a carbon monoxide detector to warn families when carbon monoxide levels become unsafe. If the alarm sounds, get outside to fresh air immediately.
Sources of carbon monoxide include blocked chimney flues and gas or kerosene heaters used indoors; never burn charcoal in a fireplace.
An attached garage is a part of your home; carbon monoxide fumes can seep-in from generators or idling cars and from outdoor generators placed too closely to open windows or vents.
Along with carbon monoxide poisoning, flooding due to heavy rains and melting snow can put you at risk for health problems.
Flood waters carry diseases and other contaminants. If your well floods, assume the drinking water in your home is contaminated. Use only boiled or disinfected well water or purchased bottled water for drinking, brushing teeth, washing dishes, preparing food and making ice. Boil water for one minute at a rolling boil and then cool before use to make your water safe to drink.
It's a good idea to have an emergency supply of drinking water on-hand - plan for a gallon of water per person, per day.
Other emergency supplies to have are canned foods and a hand-operated can opener; blankets; battery powered radio; flashlights with extra batteries; food, water and supplies for pets; "special needs" items such as infant formula and medications; a camp stove or barbecue (to use outdoors only); and a safe alternative heat source.