Friday, January 6, 2012
/lk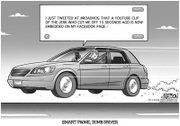 If even half of the American population would consider others before acting, most of our problems would be solved.
Though I realize that thought, coupled with my youth and idealistic mindset, may seem ridiculous to some, it's really not all that farfetched.
For example, when did talking on the phone while driving become worse than eating or smoking while driving? In my mind it hasn't, but the simple fact is that most folks can't focus when their hands aren't on the wheel.
Last month we heard that the National Transportation Safety Board is urging lawmakers to ban use of all cell phones - both hand-held and hands-free - except in emergencies, along with other portable electronic devices while operating a vehicle.
Instead of expending time and money on establishing legislation to address this, if we all just thought before we did things, like realizing pulling over to make calls is the safest bet for all concerned, creating a law would be unnecessary. But this isn't something we can count on, it's something that has to be engrained in us, in our actual trains of thought.
Because of the careless acts that have resulted in numerous deaths, our lawmakers are now forced to look at further monitoring our everyday lives.
So often I hear folks complaining of lawmakers getting into the personal lives of the people. One man I met in a Midwestern state said, "I just hate it that the government thinks they can tell us what to do with every little aspect of our lives."
While I might agree with the man on his soap box, I tend to think it's our fault to begin with.
Some crimes merit laws, and they deserve full punishment if committed. However, the proposed cell phone laws are just another example of lawmakers forced to step in because of other people's negligence.
When will it stop? I fear it never will. With more selfish, thoughtless actions will come more laws restricting the rest of us. It's much like the classic school scenario: if someone doesn't confess to the crime, we all get punished.
So if we don't own up to our negligence, we all do the time, figuratively of course. And in this case, it will mean we will all have to live with yet another regulation that details what we can and can't do with this seemingly insignificant part of our everyday lives.
The "reward" of chatting with family and friends for a few moments doesn't begin to outweigh the "risk" of what might happen.
There are always exceptions to the rules, however, especially in time of severe emergency. But all in all it seems pretty cut and dry to me, if everyone thought of the safety of others and themselves while driving, we would all be better off. And, we'd have less government interference in our lives.
More like this story