Wednesday, January 4, 2012
/lk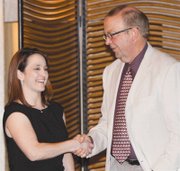 The Sunnyside Police Department has held its annual employee of the year awards banquet, recognizing police officers for serving the community in 2011.
The annual event is hosted and sponsored by the Sunnyside Police Association. Celebrating were current and retired employees of the police department.
Presenting the awards was Sunnyside Police Chief Ed Radder.
Voted supervisor of the year was Sgt. Jeff Cunningham, and the officer of the year award went to Det. Erica Rollinger.
Rollinger was also the recipient of the Eli O'Brien Award. She was presented the award, selected by the reserve officers, for serving as a mentor and supporter of the reserve officers.
Reserve Officer Bill Harris was recognized as reserve officer of the year, and Jerry Johnston was the recipient of the correction officer of the year award.
Elva Chumley was voted dispatcher of the year and Traffic Safety Coordinator Edica Esqueda received the award for support services employee of the year.
The Sunnyside Police Reserve Association recognized Reserve Corporal Larry Messmore with the Steve Evans Extra Mile Award. The award was presented by Retired Reserve Officer Janita Wutzke.
Esqueda presented the 2011 Top DUI Performance Award to Officer Anthony Russell for outstanding DUI enforcement efforts. The award recipient was selected by the Washington State Traffic Safety Commission.
The police department also recognized officers for their years of service with service pins. Officers serving with the department for five years or longer were presented the pins by Deputy Police Chief Phil Schenck.