Monday, January 2, 2012
/lk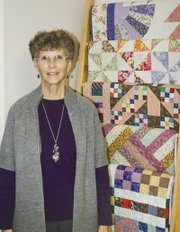 For Joyce Dixon, volunteering is a way of life, not a chore.
She's been volunteering all her life, at nursing homes, for individuals and at hospitals. She said she spent four years at Prosser Memorial Hospital massaging feet.
More recently, Dixon has been working with Lower Valley Volunteer Chore Services to do housework for low income seniors. She has also led group projects, including helping a client move to a new house and organizing groups to rake leaves for a client.
"Joyce is an amazing volunteer who cares deeply about the elders she serves," said Natalie Curfman, Volunteer Chore Services program coordinator. "She gives the gift of a clean and tidy home."
Dixon says a lot of her clients volunteered for others when they were younger.
"They feel bad that they need somebody to help," she said. "But I tell them not to worry. The help is passed down."
She feels volunteering is a rewarding part of life that not enough people experience.
"I think children should get involved," Dixon said. "Parents should be more assertive in finding opportunities for them."
She related a story of helping a client with yard work after his wife died. She involved her own grandson in the project, and he's continued to help.
Dixon also encourages people to volunteer at all times of the year.
"People get lots of help around Christmas," she said. "But they are forgotten the rest of the time."
In addition to helping local residents in Prosser and Grandview with basic chores, she also donates time and effort in other ways. She was involved in Operation Thank You, which sent cards to troops stationed overseas. She's gotten responses from some of them.
She's also an avid quilter and has donated quilts to Project Linus, an effort to give victims of trauma or illness blankets for comfort.
"I don't get paid, it's my calling," said Dixon. "As long as I can do it I will do it."
Lower Valley Volunteer Chore Services is always looking for more volunteers. For more information contact Natalie Curfman at 839-8260 or ncurfman@cc.yakima.org.