Tuesday, February 28, 2012
/lk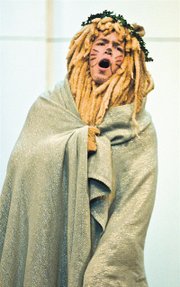 Brewing up an adequate display of talent at this past Friday's performance of Sunnyside High School's Wizard of Oz was the Wicked Witch of the West, played by Yessica Honstein.
By far, Honstein stole the spotlight with her believable evil cackle and incredible make-up.
The cast's main characters are split this year, and director Corey Murphy says it's because of the multitude of talent who showed for auditions.
If cast A is equally talented as cast B that performed the high school's first show, the audience is in for a musical treat.
Avery Gardner, who played the lion, tapped directly into his character's likeness down to the voice and facial expressions used during the show.
After attending the Friday morning show that nearly 800 area elementary school students watched, it is clear that younger children will enjoy the show's set design, costumes and believable acting.
Murphy said the cast and crew are well aware of the high expectations on the show, being that the show reflects the ever popular movie.
For musical theater, the cast and crew indeed met those expectations. The audience was taken back to that childhood place in the Land of Oz.
Perhaps, though, the crew needs to work out a few kinks in the audio system. Sometimes the actors' microphones weren't loud enough to hear over the background music. The feedback of the speakers was semi-distracting. But as actors ran through the crowd for most of the show, the cast certainly kept the attention of its audience.
Nonetheless, this show is worth the $6, and will be a family affair that all are sure to enjoy.
The show continues this week at the Sunnyside High School auditorium March 1, 2 and 3, at 7 p.m.