Friday, February 24, 2012
/lk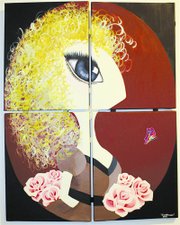 YAKIMA - A larger than usual collection of about 150 entries from some of South Central Washington's best young creative talents, including works by students in Sunnyside and Grandview, are filling the gallery walls for the 39th annual Educational Service District 105 Regional High School Art Show.
The showcase of paintings, drawings, photography, sculptures and jewelry officially opens this coming Sunday, Feb. 26, and runs through March 10 at the Allied Arts of Yakima Valley's Peggy Lewis Gallery, located at 5000 W. Lincoln Ave. in Yakima.
An opening reception will be held this coming Sunday at the Yakima gallery from 2 to 3:30 p.m., with awards being presented at 2:15 p.m., during which time the students receiving awards will give a brief description about their work. After the opening day, the public may continue viewing the exhibit Monday through Friday from 9 a.m. to 5 p.m. through March 10.
The 2012 show includes works by about 140 students of 26 teachers from 21 regional high schools - the biggest representation of schools in years for this show.
High school art teachers in the ESD 105 South Central Washington region were invited to submit as many as seven pieces of their students' art for this annual event.
The judge for this year's regional show is Dr. Shari Stoddard of the Central Washington University art faculty. Seven entries selected by Stoddard will advance to the 2012 OSPI statewide Superintendent's High School Art Show, which will be held April 6 through June 1 at the Old Capitol Building in Olympia.
Up to two of the local pieces not advancing to the OSPI show will receive the "ESD 105 Board Choice Award" and will be purchased by the ESD 105 Board of Directors for permanent display as part of the ESD 105 student art collection inside the ESD 105 Conference Center in Yakima.
The annual regional art show is sponsored by ESD 105, Allied Arts of Yakima Valley and the Office of Superintendent of Public Instruction as a means to support arts education and provide a venue for student artists to showcase their works.
For the eighth year, ESD 105 is producing a book featuring all the art pieces that will be given to each of the student artists and their art teachers. Images of the regional show will also be available for viewing soon at the ESD 105 ArtFusion website (www.artfusion.us).