Wednesday, February 22, 2012
/lk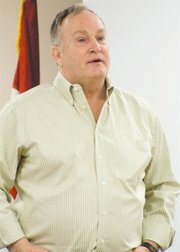 Area residents are anticipating the coming spring season and Guy Auld says there are a few things one can do to ready their yards.
Auld, owner of Sunnyside's Lava Rock Nursery and Landscaping, told Daybreak Rotarians at Wednesday morning's meeting that it's a good time to begin fertilizing their yards.
"Some people do it three times a year, but I only do it twice; once in the fall and once in the spring," he said.
After the month of February is over, Auld says it is also permissible to begin trimming roses. Also, as a tip for pre-winter plans, he says a dormant spray (a chemical that rids bushes and trees of aphids and other pests) is good to use.
"But you don't need it for everything," he added.
One Rotarian asked Auld if either irrigation or city water is preferred over the other to water lawns and plants.
"Well, you do need a filter for irrigation water," he said. "But some city water also has chemicals like chlorine."
Auld says filtered irrigation water, or minimal city water use is permissible for a fresh and beautiful looking yard.
Lava Rock is a nursery located in Sunnyside, which Auld purchased nearly five years ago.
In addition to the plants and flowers for sale at the nursery, Lava Rock staff members will also go to residents' homes to prepare yards for the spring season.
The nursery is located at 1990 Sunnyside Mabton Hwy., and can be reached at (509) 837-8762.