Monday, February 20, 2012
/lk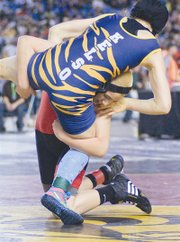 TACOMA - Junior Abby Elizondo, one of two Sunnyside High School athletes who punched their tickets to the WIAA State Girls Wrestling Tournament in the Tacoma Dome this past weekend, returned home with a fourth-place medal.
The other Lady Grizzly who competed at State, freshman Jessica Cardenas, was unable to pick up a win, but did pick up valuable experience for what's bound to be return trips to Tacoma.
Of the 104 schools represented at the State girls wrestling tourney, Sunnyside gleaned a 39th place finish with a team total of 16 points. Sedro Woolley placed first with 83 points.
Elizondo, in placing fourth in the 130-lb. weight bracket, compiled a 3-2 record at State.
She opened the tourney with two consecutive victories, advancing her to the semi-finals.
Elizondo's first win, via a pin just a minute and five seconds into the bout, came against Megan Young of Mt. Baker.
Next up for Elizondo was Colleen Reynolds of Kelso, the No. 1 ranked 130-pounder in Washington state. Reynolds didn't live up to her billing, as Elizondo thrashed the Kelso grappler, 9-3.
That victory propelled Elizondo into the semi-finals. Facing Kara Ebergson of Squalicum, Elizondo sustained a shoulder injury. Despite the bum wing, the Lady Grizzly went tit-for-tat with Ebergson.
"It was a see-saw battle," said Sunnyside Coach George Paulus. He explained that Ebergson finally squeaked ahead of the Lady Grizzly, 12-9, before rolling Elizondo onto her back and getting a pin midway through the final period.
Refusing to call it quits, Elizondo scrambled back in the consolation bracket, securing a pin against Danielle Volk of Fife at the 1:12 mark.
"Abby didn't hang her head after the loss to Ebergson," said Paulus. "She bounced back really good."
The win over Volk put Elizondo into the consolation finals against Reynolds, the state's top ranked wrestler whom Elizondo knocked off in the quarter-finals. This time around Reynolds took Elizondo more seriously, and after building a 4-1 lead over the Lady Grizzly, scored a fall 10 seconds into the second period.
Paulus said Elizondo started the second round in the down position, explaining that Elizondo twisted her body into Reynolds, who caught the Lady Grizzly's arm behind her and cranked Elizondo onto her back.
The freshman Cardenas, competing at 170 lbs. for Sunnyside, opened State against Elizabeth Paterson of Enumclaw. Paterson registered a fall halfway through the second round.
Cardenas gave Yelm's Morgan Michels a much tougher go in the first bout of the consolation bracket, but in the end it was Michels prevailing, 8-4. Cardenas forged the early lead on Michels in the match, but gave up an escape and a near fall in the final period to account for the final score.