Friday, February 3, 2012
/lk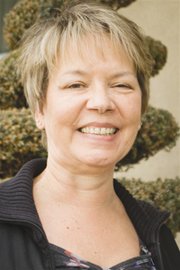 As a Sunnyside native and a member of the community with roots dating back to near the city's beginnings, Bernie Barker recently accepted an appointment to the Sunnyside Planning Commission.
She said her interest in making Sunnyside the best community it can be dates back three generations to her great-grandfather, J.B. George.
"He inspired me, as did my grandfather and father," said Barker.
George was owner of a hardware store once located where Centennial Park is now.
Barker's grandfather was Horace L. Miller, who was also a local business owner, and her father, John Reith, helped found the Port of Sunnyside. Reith was also a board member for Yakima Federal Savings and Loan.
Community development and pride has passed through the generations of Barker's family.
"I have always been interested in being involved in my community," she said, stating that interest was further developed after she helped serve on the steering committee for Sunnyside's downtown revitalization effort recently.
"I decided I could make a difference," said Barker, saying the planning commission's chairperson, DeAnn Hochhalter, also encouraged her involvement as a commissioner.
"We are longtime friends and share a birthday," Barker laughed, stating the friendship with Hochhalter led to a conversation about the vacancy created when Craig Hicks was elected to the city council.
As a member of the steering committee for the revitalization effort, Barker felt compelled to find a way in which she could further contribute to the benefit of the community.
"I'm a lifelong learner," she said, admitting the planning commission will require a lot of education where development issues are concerned.
Barker said a lot of Sunnyside's history is centered on community development, and in preparation for future development opportunities it is important to preserve the historic aspects of Sunnyside. That means showing an interest in the city's prosperity, as well as improving the downtown corridor.
She said there is one area of development she hopes to learn more about, considering her father was involved in it in the past. That is the development of Harrison Hill.
"He was involved in trying to have Harrison Hill subdivided and I don't know how much progress was made," said Barker, stating there are currently in place resources to the city.
She said she doesn't know if the city is properly utilizing those resources (properties).
"I am also hoping the commission will have some input regarding the revitalization effort," said Barker.
"I want to be a part of making Sunnyside a thriving town and making it a better place for future generations."