Friday, December 7, 2012
/lk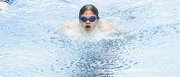 YAKIMA - Despite a narrow 67-49 loss against Eastmont, Sunnyside High School swimmers were able to notch several first place finishes yesterday.
At yesterday's second meet of the season, Grizzly Fox Rodriguez tagged the end of the pool for first place honors in the 100-yard 'fly in 1:17.54. Rodriguez just barely claimed top honors over Eastmont's Nathan Ashbrook, who finished the race in 1:17.57 for second place honors.
Rodriguez was also a contributor to two top honors in team relays. In the 200-yard medley relay (2:05.89) and the 200-yard freestyle relay (1:49.01) he and fellow Grizzly swimmers Christopher Martin, Mathew Marquez and Ricardo Alex Perez placed first against Eastmont.
Perez also walked away with bragging rights in the 100-yard breaststroke race yesterday at Yakima's Lions Pool. The Sunnyside swimmer finished in 1:13.53, beating Eastmont's second-place finisher, Micah Hartman, who finished the race in 1:20.09. Perez also finished with second-place honors in the 50-yard freestyle race in 25.48, just behind Eastmont's Grayson Porter, who finished the race in 25.22 for first place honors.
The Sunnyside Grizzly boys swim team is set to next compete on Thursday, Dec. 13, in Moses Lake.