Tuesday, August 21, 2012
/lk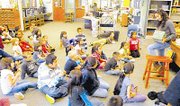 GRANDVIEW - The Good News Club strives to teach students more than just Bible stories.
"We try to teach them good behavior and to have a good attitude," says Antonio Sanchez, the group's facilitator.
Sanchez, pastor at Iglesia Del Pueblo in Grandview, has been offering the Good News Club in schools for the past two years.
The Good News Club is an after-school program designed for children in kindergarten through fifth grades and is sponsored by Child Evangelism Fellowship.
The non-denominational program with Sanchez at the helm served more than 200 students from all religious and non-religious backgrounds last year in the Grandview School District. The program in Grandview also hosts a program for Grandview Middle School students.
Sanchez says the club strives to teach children to live God's way.
"Our first series of lessons this coming year are designed to help children change those wrong attitudes into right attitudes," he said.
Some of the issues Grandview children will learn about include self control, faith, generosity, humility, thankfulness, patience, hope, diligence, trust, joy, contentment and forgiveness.
Running the program alongside Sanchez are his children Ryan, 19, Nikki, 17, Jonathan, 13, and Madeline, 12. Sanchez says he also encourages parents to attend the after-school program as well.
"It's my job to encourage the parents, too," he said.
The program for elementary students begins with game time and snacks. Then students delve into a lesson and offer up prayer requests.
The Good News Club will begin offering programs for Harriet Thompson Elementary School students each Monday from 3:25 to 5 p.m., Tuesdays at Smith Elementary School from 3:05 to 5 p.m., at Grandview Middle School each Wednesday from 2:30 to 4 p.m. and at McClure Elementary School on Thursdays from 3:15 to 5 p.m.
Good News Club meetings are set to begin this year during the week of Sept. 17, but a kickoff party is slated for Saturday, Sept. 15. The party will begin at 4:30 p.m. at Iglesia Del Pueblo, which is located at 406 E. Second St. in Grandview. The event is open to interested students, parents and siblings who want to know more information about the Good News Club. The party will also provide fun and games and food, along with information about the club.
Parents or students can find out more information about the program and registration, by calling Sanchez at (509) 778-2607.