Friday, August 17, 2012
/lk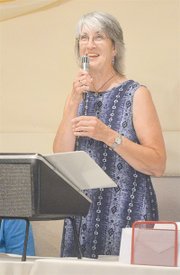 PROSSER - This past Tuesday's theme for the Christian Women's Connection in Prosser was "Dot to Dot."
Seeing that all the dots in her life connect to make a greater picture than she believed possible at any given point is Niki Davis of Clatskanie, Ore. She was the featured speaker at the monthly meeting held at the Barn Restaurant, sharing the importance of reflecting on one's personal story.
It is through moments of reflection, whether writing one's own story down or talking to others, that individuals can see how one-time insignificant moments have greater meaning, according to Davis.
She said, "It's about perception."
Illustrating her statement, Davis shared a story that dates back to when she was in the second grade. Her teacher had asked the class to share "pots" with their classmates. The date of sharing came and many of Davis' classmates had with them teapots or flower pots. When it was her turn to share, she showed the class a photograph of a toilet "...because that was the pot in our home."
She said she was one of six girls in her family, the oldest of whom is five years older than she. The home was not the happiest of places to live because the girls' parents struggled with alcoholism.
"My older sister got the worst of it," said Davis, sharing the children had to learn how to survive in the home and developed coping skills.
Davis said she was generally a happy child because her coping mechanism was "...not seeing the things going on around me."
Her family moved a few times during Davis' childhood. The first of the moves brought the family from Tacoma to Klickitat.
"I loved it...a friend's family kinda took me in," said Davis, stating the small town seemed a great place to live even though her family had a poor reputation among their neighbors and her parents "...were known as the town brawlers."
Davis said she was 12-years-old when she was brought face-to-face with the reality of her parents' behavior and the reason for the reputation. She was playing during the early morning hours with her friend when she heard a commotion and found her father beating her mother in a nearby empty lot.
Using her coping skills, Davis effectively blocked the incident from her mind after a weekend stay at her friend's home.
The next time the family moved it was because her father lost his job. It took some time to adjust and while she was visiting her sister who had grown to become an independent adult, Davis' father lost his new job and moved the family back to Tacoma.
She was in junior high and was a guarded individual because of being uprooted yet again.
"Insecurities began settling in," said Davis, stating she had a different perspective on life and didn't feel confident any longer. That lack of confidence led to her limiting her own potential.
Davis began babysitting for others and was a natural. She felt babysitting was the only thing she was good at.
At the age of 19, she became a single mother and it didn't take long for her to find herself in another precarious situation.
She was encouraged to attend the first Earth Day event and met a couple of men while attending the event. Her son was in the care of her friend and she decided to take a ride with the men, who subsequently raped her.
That was Davis' breaking point. She had to find a phone after being assaulted. During her search, she began analyzing her choices. When she found a phone, her friend "Dee" was waiting for her.
Dee, said Davis, helped and comforted her.
"I prayed with Dee...God knew the choice I was going to make on that day," said Davis.
She learned God doesn't care about excuses because He just wants to take care of His children.
Davis soon after that fateful day met and married her first husband with whom she had two more children.
Her marriage was a rocky one because she still hadn't developed a sense of self-confidence and her husband didn't share her faith.
Davis said she battled trust and while attending church she began to wish she could join the choir. She realized being shy kept her from doing so, especially because she was shy around men.
She said that's when God spoke to her heart, telling her being shy was for her a sin. She had to force herself to break away from the boundaries she held on to.
Davis forced herself to join the choir and gradually began breaking through other boundaries that held her back, gaining the freedom she richly desired.
Her marriage, however, didn't survive. Her husband left her with the children and Davis faced other obstacles in life, including depression.
Having new tools to help her through it all, primarily her faith, helped her get through what she said was a dark time in her life.
"God was faithful...I was encouraged by His word and His strength," said Davis, stating she drew strength from reading the Bible.
She eventually met and married her second husband, a man who shares her faith. Together they raised her three children and three more.
"I didn't realize much of these events until I sat down to write my story...I saw that God taught me through every mistake I have made in life," said Davis, adding, "God has been faithful whether I saw Him or not."