Friday, August 10, 2012
/lk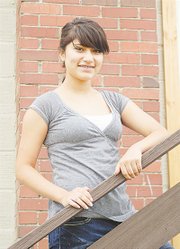 YAKIMA - Pageants are a way of life for Sunnysider Joscelyn Martinez.
She began her trek to becoming a pageant professional at Sunnyside High School when she vied for the Miss Sunnyside title.
"I lose more than I win, but I've gained a lot of experience," she said.
Though she didn't win the Miss Sunnyside crown, she went on the following year, in 2010, to compete in the Miss Yakima County Outstanding Teen contest. There, she earned runner-up honors. From then on she was sold.
The 19-year-old has since competed in the Miss Yakima County Pageant for the past two years. Last Saturday was her second try at the county title, and although she didn't earn an award, Martinez says competing in pageants has well prepared her for life.
Growing up as a shy girl, she says the public speaking aspect of pageant competitions has given her more confidence in the real world and the ability to meet and greet many individuals, and even make a few good friends. She also says her public speaking skills have given her an extra boost of confidence when sitting in job interviews.
Last weekend Martinez sang "Somewhere Over the Rainbow," in the talent portion of the competition.
After graduating Sunnyside High School in 2011, she hasn't thrown her love for pageant contests away. Come September she'll go on to compete in the Regal Majesty Pageant to be held in Pasco.
Also this fall, Martinez will begin her sophomore year at Heritage University in Toppenish, where she is seeking a degree in business administration. She says she's not sure what she wants do with her degree, but one thing's for sure: her degree in business administration along with the confidence and network the pageant experience has given her will most probably prepare her to do whatever she wants in her future.