Tuesday, April 17, 2012
/lk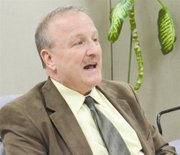 Sunnyside School District Superintendent Dr. Rick Cole last night visited the Port of Sunnyside Commissioners meeting to announce the good news.
Long-awaited state funding for the YV Tech skills center has been approved by the legislature to the tune of $6.2 million.
The center, said Cole, has been a part of the school district's strategic plan for approximately 20 years.
YV Tech has had in place a smaller version of what was envisioned, but now has the funding for a facility that will be just more than 13,000 square feet in size.
In 2007 the Port of Sunnyside donated property for the center, which will be operated by YV Tech. That property is located on Barnard Boulevard near the new transportation facility.
The smaller operation initially offered high school students technical training in programs like cosmetology and certification for nurse's aides.
The demand has grown and Cole said local businesses in recent years have indicated there is a need for diesel mechanics and welders.
Programs that provide students the training in those fields will be possible with the new center.
Cole told the commissioners last night all high end equipment will be paid for with the funding recently approved by the legislature.
He said Sen. Jim Honeyford was an advocate for the school district and helped secure the funds.
"We believed it would have happened sooner," said Cole, noting the funding has been anticipated for a number of years.
Now that the skills center is due to be built, he said the school district will be asking local businesses to verify the types of programs that are most needed to meet the job market.
Port of Sunnyside Commissioner Arnold Martin said, "We appreciate the news and are happy to see the funding for the skills center come through."
Commissioner Jeff Matson, too, was pleased. "This will benefit students, not just students in Sunnyside, but students throughout the valley."
Cole said the school district is planning to see construction of the facility begin this coming fall.
"It will go fast," he told the commissioners.