Friday, April 6, 2012
/lk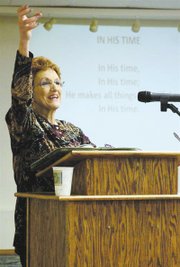 GRANDVIEW - A split vote on the fate of Bethany Presbyterian Church Pastor Lance Ziegler sparked the birth of a new congregation that will hold its first Easter service this Sunday.
Carl and Lois Raymond were longtime members at Bethany and are among now former members of the congregation who recently began Faith Family Fellowship.
Raymond said the vote to dismiss Ziegler was 37 to 30, and many of those who wanted to keep the pastor left Bethany to form Faith Family Fellowship.
"It was not a knee-jerk reaction," said Raymond, a 20-year member at Bethany and one of the church's elders. "It was well thought out."
Raymond and others from Bethany, including Ziegler, have long been at odds with Bethany's parent organization, Presbyterian Church (USA), for what they see as liberal practices, such as ordaining gay and lesbian pastors.
Though Faith Family Fellowship is currently independent and non-denominational, Raymond said the congregation is considering allying with the Evangelical Presbyterian Church, which he notes holds more conservative values.
"We're talking about it," Raymond said of switching to the more conservative Presbyterian branch. "I think that was one of the reasons they let Pastor Lance go."
The new church's focus isn't just about being a place for former Bethany members.
Faith Family Fellowship's purpose statement is "disciples making disciples for the glory of God." Raymond adds, "We want to be a church of church planters and build other churches throughout the valley. We're looking for those who don't have a church home."
Church services, says Raymond, are informal, with members taking turns preaching and leading worship.
"Come as you are, that's what we're shooting for," he says, noting church goers often meet around tables. "A table gives you a place for your Bible and a cup of coffee," Raymond says.
Faith Family Fellowship, a congregation of about 30 people, will meet at its usual Sunday worship time of 10 a.m. this Easter Sunday, and will hold its service at 801 Grandridge (Gems Reception Center).
Games will be provided for the children and following the service a free brunch will be offered.
Raymond says on Sunday, April 15, the church will return to its usual meeting place at the Vineyard banquet room, 150 Division St.
Besides 10 a.m. Sunday services, Faith Family Fellowship offers a 6 p.m. Wednesday potluck meeting.
He notes the church's informal structure extends to its offerings each Sunday.
"We do not pass a plate, but have an offering box to put the offering in," he says. "If you want to give you can and if you don't that's okay."