Friday, September 16, 2011
/lk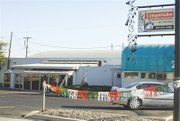 More than two-thirds of the valuation for new construction in Sunnyside last month came from one project: a two-story home in the Aho Construction development off of Sunnyside-Mabton Highway.
The four-bedroom home at 1308 Asparagus Lane has a valuation of $237,446. The project generated more than $2,900 in permit fees for the city of Sunnyside.
All told, 18 projects were given the green light by city permit officials during the month of August, with a combined valuation of $318,264. Together they netted $4,560 in fees for Sunnyside city coffers.
Nearly half of the new projects permitted last month were related to roofing. City officials gave thumbs up to eight roofing projects with a combined valuation of $42,820. Those netted the city $933 in permit fees.
By far the biggest roofing project was at Mid-Valley Mall, where a portion was re-roofed. The mall's new roofing had a valuation of $25,285, according to city records, and garnered $406 in permit fees.
In commercial permits last month, a project at 440 S. Sixth Street to repair fire damage had a valuation of $13,569.
In other commercial building starts in Sunnyside during the month of August, officials gave the go-ahead for a remodel at 214 S. Sixth Street for a new restaurant.
A third commercial building permit was issued last month so that an emergency exit door could be installed at 808 E. Yakima Valley Highway.