Tuesday, October 25, 2011
/lk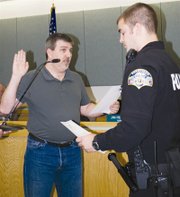 Because assessed property values are anticipated to be lower in 2012 and the city of Sunnyside each year must consider its budgetary needs, Sunnyside Deputy City Manager and Chief Financial Officer Byron Olson last night asked the city council to consider a property tax increase.
He said ad valorem taxes are permitted by law, but the city is limited to a tax increase of approximately 1 percent more than the highest tax in the past three years.
The limit, said Olson, was voter-approved and the Washington state legislature enacted the law to honor the wishes of the voters.
Property taxes provide revenue to the city, the Port of Sunnyside, Sunnyside School District and other entities, such as the Yakima County. Approximately 38 percent of property taxes collected from local residents end up in the city of Sunnyside coffers.
For a property assessed at $150,000, Sunnyside residents are paying about $9.82 per $1,000 of valuation or about $1,473 total.
A 1 percent increase in local property taxes would not improve the city coffers because the property values in Sunnyside have dropped approximately $33 million for the coming year. If the ad valorem tax increase is approved the city could expect to see a nearly $47,000 decline in taxes collected over 2011, which amounts to approximately $1.84 million in revenues.
Yakima County, however, has yet to finalize assessment values and the city will have a better understanding of its possible property tax revenues once the assessments are complete.
A public hearing on the matter was held, however there weren't any citizen comments.
The council was asked to consider the issue and vote to approve the 1 percent tax hike during its regular meeting on Monday, Nov. 14.