Tuesday, October 18, 2011
/lk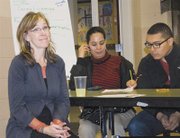 OUTLOOK - Community members involved in Stand Up for Outlook last night participated in exercises to help determine the vision and mission of those seeking to improve the community.
Because the group is focused on communication, connecting with neighbors and providing a safe place for children living in the community, the exercises involved "props" representing the vision and mission of the group.
Outlook residents were asked by Anna Marie Dufault of ESD 105 to visualize the goals for the community using glow sticks. She said a set of values was identified and the exercise was intended to hone in on the vision set by the values.
An idea that resonated with those gathered was "Focus on the positive-caring and connected neighbors."
Dufault said the vision for Outlook is intended to be a statement that can be imprinted on t-shirts the group plans to have made.
For the mission of Outlook, residents fashioned tools from pipe cleaners.
The tools included shovels, rakes, a hammer, a nail, a pitchfork, a hook and a wheelbarrow.
Some of the tools, residents said, represent cleaning the community of anything negative.
The wheelbarrow became a focus of the group because there was a broken wheelbarrow that was nearly thrown out at the community's clean-up event earlier this month. There was potential for the wheelbarrow's use and a resident salvaged it.
It was suggested the wheelbarrow could be used as an icon for Stand Up for Outlook because it represents the resurrection of the community.
Also discussed was the success of the clean-up event.
Community members were pleased at the results, stating it was an opportunity for neighbors to help one another and to get to know one another.
Yakima County Sheriff Ken Irwin said, "The effort set a good example for the children. They are seeing junk thrown away...they learned hard work can be fun, provide opportunities to get to know neighbors and results in a clean place to live."
He also spoke to the group, letting the residents know an animal control officer will be patrolling the area more frequently.
Irwin urged the residents to secure dogs to their property and to obtain licenses for them because the animal control officer will be picking up any dogs roaming the roadways as far out as Dekker Road.
Dufault told the group she is seeing a great deal of progress being made in Outlook as a result of the community members coming together, and focusing on improving the environment in which they live.
"This is not an easy thing to do," she said.