Wednesday, October 12, 2011
/lk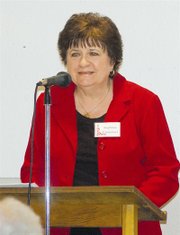 PROSSER - Growing up with an alcoholic father and enduring two marriages to alcoholics, Stephanie Carmichael of Bend, Ore. had plenty to overcome.
Carmichael shared her story yesterday, Tuesday, during the Lower Valley Christian Women's Connection luncheon in Prosser.
She says the past gave her a heart condition - not a physical heart ailment but problems in her spiritual life.
Carmichael recalled watching headlights pass by outside her home as a little girl, wondering if her father would come home.
She said that same experience happened while married to alcoholics.
She says husband number three is the keeper. They've been married 25 years and run a family plumbing business in Bend.
But getting to the point where she is now took a process in which she learned that God loved her unconditionally.
"Traumatic experiences in our life seem to shape us," she says. For Carmichael, that meant dealing with fear, mistrust, anger, bitterness and unforgiveness.
She says the tipping point for her in opening her heart to God came when she and her husband both lost their mothers in the same year.
"We were devastated," Carmichael said. "We started going to church and one day it was as if I heard John 3:16 for the first time."
She continued, "I felt like this heavy backpack was lifted off my shoulders and I had a peace I'd never known."
The result since then, she says, is "I let go of my hurts and found a renewed hope."
It's a peace and a hope, Carmichael added, that can be experienced by all.
"God really does meet us at our point of need," she says.