Wednesday, November 30, 2011
/lk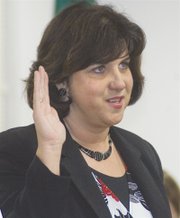 Outgoing Sunnyside School Board Director Steve Carpenter gave his replacement, Sandra Linde, a small stuffed cougar as she took his seat last night, telling her he was glad that she was maintaining the balance between cougars and huskies, even if her cougar wears BYU blue.
Linde, elected to office by a slim 36-vote margin over Leroy Werkhoven from among more than 2,600 ballots cast, was sworn in at the regular meeting along with returning directors Rocky Simmons and Miguel Puente, both of whom ran unopposed this past fall.
After the oath of office, the next item of business was reorganization of the board. Simmons nominated Puente for president of the board, and director Michelle Perry asked if the election could be delayed until the January retreat, giving Linde time to become familiar with the requirements of the president.
Superintendent Dr. Rick Cole quoted state law on the leadership of school boards, explaining that the board needs to have a president and vice president at all times.
The motion for Puente for president was seconded by director Lorenzo Garza, and the final vote was 3-1 with Linde abstaining.
The board next elected Perry for vice president unanimously.
After approving the agenda, outgoing director Carpenter was honored by a number of people. The other directors presented him with a WSU Cougars gift basket in recognition of the friendly college rivalry on the board.
Carpenter's wife received roses for sharing him with the board. The high school presented him with a lifetime Grizzly pass.