Wednesday, November 23, 2011
/lk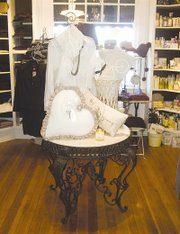 Shopping for the Christmas list on Black Friday doesn't have to mean traveling far from home. As a matter of fact, right here in the Sunnyside area there is no shortage of gifts and stocking stuffers.
Fashion for women,
men and children
In all things fashion, area consumers can expect the sales on their favorite apparel and accessories to be just as big as the latest fashion trends.
With most stores opening much earlier than usual, business owners are gearing up for the annual consumer holiday, "Black Friday" on Nov. 25.
Lynn Giraud, Sunnyside JC Penney's store manager, says consumers are sticking close with the latest winter trends. Pea coats and boots are some of the hottest items for men, women and children.
"Shoppers are also (most interested) in holiday tops, the kind you buy for holiday parties," she added. "We also sell a lot of holiday party dresses."
Giraud says what sells the most, however, is juniors fashion apparel, including sweaters and jeans. Men, however, stick mostly to jeans and dressy button down shirts, according to Giraud.
Though specific sale prices aren't available for release until tomorrow (Thursday) or at earliest today in printed sale ads, Giraud says the store plans to stay competitive. The store located inside the Mid Valley Mall in Sunnyside plans to beat the holiday sales rush by opening at 3:30 a.m. on Friday morning.
If you see women sporting a trendy winter top or sweater dress, there must be a fashionable handbag nearby. Amelia Esquivel at Candigurlz in Sunnyside says in addition to tops and accessories going like wildfire, handbags are her customers' most desired item. Candigurlz, located at 2576 Yakima Valley Highway in Sunnyside, plans to offer up to 50 percent off items in the entire store. In addition, the store will open at 8 a.m. this Black Friday.
For winter sports lovers, Ken Winters, owner at Slam Dunk Athletics in Sunnyside's Mid Valley Mall, says indoor soccer and wrestling shoes are hot ticket items this Black Friday.
Slam Dunk Athletics plans to offer a "buy one, get one half off" special for items of equal or lesser value in the entire store. The business plans to open at 8 a.m. this Friday.
Local upscale boutique Mélange plans to offer sales this holiday shopping season, too. The store began offering clothing to its customers this past spring and owner Lori Gardner says the store carries a wide range of tops, jackets and pants. The boutique, located at 2580 E. Lincoln Ave., strives to offer apparel with an "elegant flair in a country setting" according to Gardner. This Black Friday the sales tax on all items is on Mélange.
"It's no tax day; we pay the tax," Gardner said.
The 'no tax sale' will begin at Mélange at 9 a.m. with hot cider and snacks for customers taking a break from the consumer-driven busy day.
Delightful toys for little girls and boys ready for Santa's list
This Christmas season there isn't a must-have toy that Bi-Mart Assistant Manager Chuck Adams can think of.
"It's not like there's this year's Cabbage Patch Doll (or Tickle Me Elmo) that stands out," he said.
However, there are many choices that are sure to win over the little girl or boy on Santa's shopping list.
"We have a little of everything," said Adams.
That couldn't be truer if one were to seek out the items on the list this coming Friday at Walmart, as well.
Electronic toys for the little ones, as well as for the older children deck the shelves. Toys that promote reading and interaction by Leap Frog or V-Tech are popular gift selections.
Young girls may wish to have a new Barbie or Monster High doll under the Christmas tree.
Also, fun for the younger girls are Zhu-Zhu Pets, baby dolls and dress-up clothing. Maybe she likes Disney princess characters. If so, there are plenty of Disney Princess dolls lining the shelves.
Baby Alive, the doll little girls like to feed and change, has been updated for today's tykes. She has been made available in different ethnicities.
For the little boys, there are plenty of Nerf, Hot Wheels, Toy Story 2 characters, WWE toys and super heroes stocked and ready for the Christmas wish list.
Classics any child can enjoy include Lincoln Logs and Legos of many kinds. Alphie can also be found on the shelves in the stores this year.
Children young and old will also certainly enjoy classic games like Monopoly, Scrabble, Battleship, Twister or Candy Land. New to the games is Angry Birds for children ages 5 and up.
If Santa is seeking something unique for children who enjoy life on the farm or want to pretend they are working on the farm, RDO Equipment in Sunnyside has plenty to offer. There are tractors and combines for active imaginations, as well as toys on which the younger tykes can scoot around the house.
Store Manager Jason Martinez said, "It depends on the age of the child."
His store offers the always popular battery powered Gator for riding around the yard and tractor trikes. There are also girls and boys bicycles.
"We receive special shipments just for Christmas," said Martinez.
So, no matter what's on that little one's Christmas list, Santa has many choices this season.
Televisions the big item in electronics
People looking for high tech items this year can expect an abundance of flat screen televisions and smart phones.
Bi-Mart employees report the big sale items will be high definition televisions, but the store also carries a selection of videogame consoles, digital cameras, printers, DVD and Blu-ray players, cell phones and GPS devices.
Radio Shack will be opening at 5:30 a.m. on Friday to give shoppers plenty of time to find the perfect gift and will have deals on tablet computers and smart phones. Both the Kindle and Nook will also be on sale, with gift cards to sweeten the deal.
Walmart is also putting televisions on sale as doorbusters, meaning limited quantities for early shoppers only. The real deals will start at 12:01 a.m. on Friday, and include bargains on TVs, smart phones and laptops, but Walmart will have three sales events starting on Thanksgiving night at 10 p.m. with videogames and DVDs and a final push on Friday at 8 a.m. with more televisions and a deal on smart phones.
Unique gifts for the person who has everything
Every year there's at least one person on the shopping list who's hard to shop for. They seemingly have everything they could want or need...but you still want to share a gift with them...so what to do?
One idea is to head over to the Sunnyside Museum, which sells a deck of playing cards with historical pictures and information about Sunnyside on the reverse side of each card. The museum also offers commemorative belt buckles for sale in connection with local history.
Sally Saras is a volunteer at the museum and she says there are also booklets for sale by local author Roscoe Sheller depicting stories about Sunnyside history. "There's not many of them left, but we do have some for sale," Saras said.
Over at Valley Lanes in Sunnyside, there's a little something for everyone during the holidays. Owner Rob Rice says bowling balls and bowling bags are popular items to put under the tree. Valley Lanes' new video game center is also a possible idea as a stocking stuffer, as gift cards are available. The cards work in the games, so there's no need for quarters.
Golf fans can be accommodated at Black Rock Creek Golf Course, where the pro shop offers Cougar and Husky-themed stocking stuffers such as ball markers.
Also popular, says golf pro Scott Galbraith, are golfing tees, spikes and even brushes to keep golf clubs clean.
Galbraith notes that shirts and caps are also popular gift items from the pro shop. He said about the only thing that doesn't get put on a gift shopping list are golf clubs. He says clubs are a tough surprise Christmas gift because they have to be fitted to the individual golfer.
When in doubt - whether shopping for a child or the young at heart - there's always the handy gift certificate, which most of the local stores carry on Black Friday and throughout the year.