Wednesday, November 2, 2011
/lk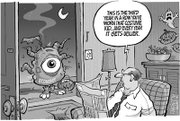 My favorite holiday is Halloween, but perhaps not for the reasons you'd expect.
Halloween is a dark holiday, one with roots in fear and superstition. Modern society has managed to eradicate most traces of those roots, leaving only superficial trappings.
But it's the superficial stuff I love.
I love seeing people decorate houses with pumpkins or scarecrows. I love the spooky music and the desire to give each other a thrill or chill.
But I love the costumes most of all. Particularly children in costume. And most particularly, children at that age where store-bought doesn't cut it, so they want to make their own.
Trick-or-treaters are always welcome at my house, because I really want to see the costumes they are wearing.
Back on the wet-side my husband and I lived in a house that was up under some trees on a slight hill. The climb was just annoying enough, the street dark enough, that we got very few trick-or-treaters each year. I kept a running tally on my weblog each year.
From 2003 to 2006 we averaged 18 trick-or-treaters each Halloween. We had an all-time low of only seven children in 2007. Then we moved out here.
My first year here I was so pumped. I expected crowds. Maybe 30 or 40 kids. We got enough candy for 90, figuring the leftover candy could be dessert for lunches for the next couple of weeks. The neighborhood I live in has a lot of children, and I expected them all to visit our house on Halloween night.
And so the night arrived... as did crowds and crowds of children. I attempted and failed to keep track of how many we got. My husband made an ill-advised candy run. And we completely ran out of candy at 7:30 having given out over 300 pieces. I hated shutting the doors and turning off the lights, but we had no choice.
But that first year, despite having to close down after just a couple of hours, I saw so many costumes! I saw the range from store-bought efforts to bored teenagers who didn't bother to dress up. And I saw a lot of creative efforts that made me happy.
This year we finally managed to get enough candy that we didn't have to turn off the lights before 9 p.m. I estimate that we gave out between 800 and 900 pieces of candy to almost as many children (I lost count at 275). Most of them had costumes.
And I loved it. The costume is the reason for the season for me. If the kids bother to dress up, I love them for it and I'm glad to hand over candy.
I've been called insane for being willing to give candy out to so many kids. But I get a reward, and for me it is worth it.
Sure, I saw a lot of boring store-bought costumes. This year there were way too many ninjas with the exact same outfit. Far fewer of those annoying Ghostface masks this year, thank goodness.
This Halloween we got a ton of superheroes. And while there were a lot of Batman and Batgirl costumes, a lot of them were personalized a little.
My favorite superhero costume this year was a young man dressed as Clark Kent becoming Superman. I believe my husband gave him two pieces of candy, one for each persona.
There was also the usual mix of classics. Anyone wearing a Wizard of Oz costume to our house gets extra candy, and we had a few. Witches, vampires and zombies are all welcome, but I also appreciate the kids who daubed a bit of make-up on their faces, pulled on some old clothing, and just tried to make something up. It showed they made an effort.
The ones who don't make an effort must jump through an extra hoop at our door to get candy. We put a sign out that says costumes are required, but some children have figured out that I'm a pushover and come anyway.
So when we are confronted with a child not wearing an obvious costume, we make them tell us what their "costume" is. My husband tends to give hints ("Are you a lawyer? An undercover cop? A teacher on his day off?"). And while most of the kids are only interested in candy, some actually have come up with funny and appropriate ideas right on the spot.
Halloween, for me, is celebration of candy and costumes and interaction with people you generally don't meet. It's a chance to visit neighbors and say hello, a chance to be open and friendly. And the whole thing is tinged with a feeling of unreality, that it's safe to be someone else for a night.
I love Halloween. And I'm already looking forward to next year.