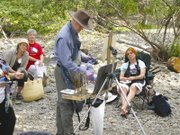 CLE ELUM - Paint, photographs and words, those are the tools visiting artists will use to capture the essence of Kittitas County during the Fresh Air Artists Festival scheduled for July 11-15.
The festival is returning for its third year this summer. The host organization, High Country Artists, says the success of the event is prompting them to add a new art form each year.
"We always hoped to add one art to each festival until we have them all covered," laughed High Country Artists' Virginia Stogdell.
"We started with plein air [in the fresh air] painting, then added photography last year. The creative use of words seemed like a natural and easily incorporated choice this year," Stogdell said.
One way they're fitting words into the mix is by offering two writing workshops, taught by Northwest author Ellie Belew.
Belew's Honing In workshop is designed to help writers with their focus. "How do we get closer to what we want to write about?" Belew asks. "Closer to what makes us laugh. Closer to what puzzles us. Closer to what we remember. This workshop provides writing exercises designed to help focus your writing, be it poetry, fiction, memoir or creative nonfiction," explained Belew.
Belew's second workshop is intended to help with that mysterious thing called Writer's Voice. She says each writer's style is a combination of grammar, point-of-view, vocabulary, subject, form and "something more elusive." Through experimentation in her workshop, she says participating writers will find ways to enhance their own voice.
When they've got that skill down, those writers might enjoy exercising their newly focused voice in the festival's Fresh Air Poetry Writing competition.
"The poetry writing is an opportunity for writers to use their talents in the same way painters do during the festival," said Stogdell. "Painters go out and capture the inspiring scenes of Kittitas County in their artwork. This year we want poets to do the same thing."
Stogdell said the county inspired poetry writing is open to anyone who wants to spend one day or the whole week writing about the county, whether they participate in the writing workshops or not.
"We don't want to limit in anyway what writers actually write about," she added, "but it should be done during that week and inspired by the beauty of the county in some recognizable way."
Using words as an art form is familiar territory for award-winning plein air painter and art instructor Jim Lamb. He's returning for the second time as the painting instructor for the festival.
"Jim is bringing along copies of a book that he and poet Tom Martin collaborated on, called Visions of California," said High Country Artists President Virginia Depicolzuane.
The two artists say their book pairs paintings and poems in a way that enhances each artistic expression in the same way that music and lyrics work together.
Along those lines, Depicolzuane, who is both a writer and a painter, said she'd like to see painters and poets working on the same scene during the festival.
"Seeing something from different points of view and in different mediums is really motivating to any kind of artist," she said.
Lamb's focus at the festival is on his three-day painting workshop called Landscape Impressions. It covers the "challenges and excitement of plein air painting." In the workshop Lamb demonstrates and explains techniques to cope with changing light, shadows and the weather.
"The sessions will be interactive and questions are welcome," Lamb says.
Award-winning photographer David Dick is another returning instructor at this year's festival. Dick offers a session on Basic Outdoor Photography, which was very popular last year. To that he's adding a session called Portraits Off the Grid. This workshop covers portrait photographs and their lighting using small strobes.
Carpenter House Museum and Art Gallery, Third and Billings streets. in Cle Elum, is 'home base' during festival week, July 11-15. At the museum artists meet their instructors, take advantage of the daily continental breakfast, partner up with other artists, get directions to good sites around the county and receive tips on local lodging and dining - among other things.
Last year's winning artist, Pat Clayton, said participating in the Fresh Air Artists Festival was a great experience.
"The folks there are extra supportive with things like the breakfast they have for you every day," she said. "Then the local people are so helpful. They'd help us find different places to paint, so we always had new places to explore."
A no-host lunch at the Flying Horseshoe Ranch, and a hosted lunch by the Roslyn Riders horse club at their arena are two extra benefits for participants.
"Painting at the Roslyn Riders Club and the lunch they've fixed us each year has become a real highlight of the festival," said Stogdell. "I know the horses there inspired artist Pat Clayton's winning painting last year."
A host of awards and cash prizes will be presented at the wine and hors d'oeuvres reception at the Carpenter House on Friday evening, July 15. Those prizes include a Best of Show Award in each category. Winners' artwork will be published in the Northern Kittitas County Tribune as well.
"The winner's painting will appear on the front page of the Tribune in the July 21 issue," said Publisher Jana Stoner.
This year world-renowned artist Catherine Gill, author of Powerful Watercolor Landscapes, will judge paintings. The poetry will be judged by National Endowment for the Arts fellowship recipient and Grolier Poetry Prize winner Allen Braden.
Well-known Roslyn musician Marc Brodine adds his artistic flair to the art show reception. Poetry readings by Braden and the poetry winners round out the evening's entertainment.
"This type of event just fits so well with upper Kittitas County, where we have an appreciation for art, and the natural beauty that surrounds us," said Librarian Erin Krake.
"The High Country Artists bring so much culture, pride and beauty to our community. Their festival brings artists and art lovers from all over the northwest here. Even if you aren't an artist it's fun watching them paint, take photos and work their particular type of creative magic."
Final registration for the festival is June 1. Registration information and other event details are available at: highcountryartists.com.