Wednesday, March 9, 2011
/lk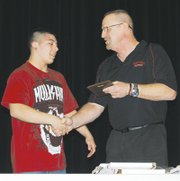 Sunnyside High School honored its winter student athletes yesterday (Tuesday) at an awards ceremony that recognized sportsmanship, athletics and academics.
The Sunnyside boys wrestling team was honored by their coach, George Paulus, who named Josh Romero as most inspirational and Isidro Ramirez most improved. Meanwhile, Rigo Valdez was named outstanding JV wrestler, Nathan Gonzalez earned most valuable player and Emmanuel Tejeda earned the captain award.
On the girls wrestling team, Yunuenn Garcia was named most inspirational and Abigail Elizondo was named most improved. Maria Olivera was given the team captain award.
For the girls basketball team, Kaylynn Jongsma was named team captain by coach Rick Puente. Her teammates Addie Palencia and Vanessa Alvarez earned most improved honors and the coaches award, respectively.
Meanwhile, the defensive most valuable player award was given to Melissa Amaro and Ruby Herrera earned offensive most valuable player.
The boys basketball team honored Rafael Salmeron as most inspirational and Trey Serl as most improved.
Miguel Barrios earned the coaches award while the most valuable player awards went to Israel Manzo and Eduardo Salmeron.
Andrew Daley and Jessie Leija both earned the captain award.
The Grizzly dance team named Jaylyn Cervantes as captain and Roger Lozano as best dancer. The coaches award went to Danie Jo Kranz while Martin Saldana and Marielle Abbot earned most improved and most inspirational honors, respectively.
The bowling team was honored by their coach Tina Peabody. Sandra Ramirez received the captain award, while Adriana Lopez was named most improved and Johanna Chumley earned the high average award.
On the rally squad, Nidia Hernandez was named captain, while Sydney Wutzke was named most valuable cheerleader. Alexus Alvares earned the coaches award and Mercedez Cantu was given the spirit award.
Athletes named to the all-league team in the Columbia Basin Big Nine included several wrestlers. Santos Guerrero, Nathan Gonzalez, Isaac Guerrero, Isidro Ramirez, Josh Romero and Adam Peters were named to the first team.
Gonzalez was also named the Big 9 3A wrestler of the year for the lower weights and Romero was named the wrestler of the year for the upper weights. Paulus also was named the Big Nine coach of the year.
Earning second team all-league wrestling honors were Jesse Barajas, Daniel Guillen, Rigo Valdez, Miguel Guzman and Frankie Ochoa.
David Vidales, Emmanuel Tejeda, Miguel Madrigal, Lupe Mendoza and Daniel Avalos were given honorable mention all-league wrestling honors.
Meanwhile, Israel Manzo earned a place on the Big 9 first team for boys basketball, Ruby Herrera received an honorable mention for girls basketball and Mariah Gonzalez also earned an honorable mention for bowling.
Students at last night's event were also honored for their efforts in their sport as well as their work in the classroom.
Wrestler Juan Barajas and dance team member Kelley Bridges both earned special recognition for balancing academics and athletics from the National Electrical Contractors Association and the International Brotherhood of Electrical Workers.
Out of 258 student athletes this winter, 123 (47 percent) achieved a 3.0 grade point average or better. Forty-seven, or 18 percent of participants, earned a 3.65 grade point average or better.