Tuesday, March 8, 2011
/lk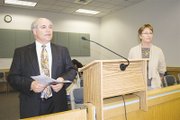 The Sunnyside City Council last night was provided with information regarding downtown revitalization projects completed by Jeff Louman of the engineering firm Huibregtse, Louman and Associates. Colie Hough-Beck, an architect with HBB Landscape Architecture also spoke to the council.
The pair has worked on various revitalization projects throughout the state, including Grandview and Yakima's recent efforts to improve their downtown corridors.
Louman said he was at the city council workshop to explain the processes of moving forward with a revitalization project.
He said not every project takes shape in the same manner and the process is not always the same. Using Yakima and Grandview as examples, he said, "They (the projects) are similar in improvements, but different in how they came about."
Yakima, Louman said, received its funding before moving forward with design specifications. Grandview, on the other hand, secured grant funding for a study of streetscapes and design standards before proceeding.
He said Grandview developed an action plan for legislators to review when considering funding requests. "The timing was right," said Louman.
Hough-Beck next told the council about her approach to projects, using designs that showcase the character of the community. She explained icons used in presenting a concept for a project provides the community members a better idea of the various elements to be implemented in a project.
Talking about revitalization efforts in Mercer Island, she said the community struggles much like any other community. The project there took a while for economic development to grow after the improvements. Eventually, the community warmed to the changes.
"It's about giving the space back to the public," said Hough-Beck.
Community members in Grandview, however, "are very excited about the living room which is about economic development," she said, explaining to the Sunnyside City Council the investment in a revitalization project can either have an immediate response or a delayed effect.
Louman provided council with a brief overview of various steps in the process of planning and designing improvements. He said, "Stay cognizant of requirements that may be stipulated by potential funding sources...it would be difficult to make the process shorter than six months, but don't drag it out. Try to keep it moving."
Sunnyside City Manager Mark Gervasi asked Louman and Hough-Beck to provide the presentation to give the council insight into the process of a downtown revitalization effort.