Wednesday, June 29, 2011
/lk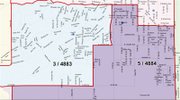 The director of District 5 on the Sunnyside School Board, Miguel Puente, has submitted his letter of resignation.
The long-time, well-respected board member is stepping down to clear the way for his wife, Becky, to be hired by the Sunnyside School District. Most recently employed as a substitute teacher, she surfaced as the top candidate for a full-time teaching position that has opened up at Sunnyside's Chief Kamiakin Elementary School.
Based on the recommendation of local administrators, the school board is expected to approve the hiring of Mrs. Puente as a full-time, first grade teacher at the directors' regularly scheduled meeting this coming Thursday.
That approval couldn't have come had Mr. Puente still been seated on the board. Washington state's conflict of interest rules prohibit school districts the size of Sunnyside from hiring the spouses of school board members.
Ironically, two of the directors currently seated on the Sunnyside School Board have spouses who are gainfully employed by the local school district. Michelle Perry's husband works as a para-educator at Outlook Elementary School, and Rocky Simmons' wife is employed as a secretary. That, however, is allowable under state statute because both Simmons and Perry were elected to office after their spouses had already begun their careers with the Sunnyside School District.
Conflicts of interest crop up at times for both Perry and Simmons, though, as neither are allowed to participate in, or influence, discussions that relate to employment contracts that pertain to their significant others. Actions affecting employment status include, but are not limited to, hiring, establishing compensation and fringe benefits, setting working conditions, conducting performance evaluations and considering or imposing discipline and termination.
Adhering to conflict of interest policies with two of the five board members having spouses working in the schools, especially during labor negotiations, "...can get tricky at times," admits Sunnyside Schools Superintendent Dr. Rick Cole.
However, it may get even more complicated.
That's because Puente stands a very good chance of regaining the same school board seat that he just vacated this week. In filing three weeks ago to retain his seat on the school board, up for re-election this fall, Puente drew no challengers.
Assuming he doesn't withdraw his name from the ballot, or someone steps forward and mounts an aggressive write-in campaign, Puente is running unopposed...which means that if voters return him to what is currently an open seat, his wife will have been hired before Puente is elected and she will rightfully get to keep her job.
It also means that Puente will be the third of the five school board members who will have to step away from certain labor discussions.
The four remaining school board members...Perry, Simmons, Lorenzo Garza and Steve Carpenter...have 90 days from this coming Thursday to appoint someone to fill Puente's seat on the board. Normally, said Cole, the board accepts applications for 30 days from local citizens interested in serving as a director. The only major requirement is that people who want to be considered for the now vacant seat reside within District 5 (see map above).
Puente, this past Tuesday, said he will not seek to get appointed to what is now his vacant seat, instead using the rest of the year to gauge the community's response to what has transpired.
"Three people on the school board with spouses working for the district...yes, it creates some issues," said Puente, noting the board would have to be ever mindful of adhering to conflict of interest policies and would need to strive even more than it presently does in keeping all district business transparent and open to the public.
"Right now we're establishing some paths that are turning around some of the troubles we've had in our schools, and yes, it would be nice to continue to be a part of that.
"But if problems arise from this, I'm willing to walk away. Whatever benefits our schools, our kids, I want to do what's best for the community," Puente said.
Cole said in an ideal setting, no school board member would have a spouse who's employed by the same school district in which they serve.
Bluntly put, "I'm not comfortable when any board member has a conflict of interest," Cole said. On the other hand, Cole adds, "Miguel's been a great board member."
The issue at hand, Cole said, will in all likelihood be settled by the community at-large. "If the people who live here in this district have a problem with this, they are the ones who are going to have to step forward and decide who is going to represent them," he said.