Monday, June 27, 2011
/lk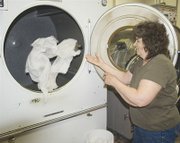 It's been a year of change at Sunnyside High School, but one of the constants has been laundry/custodian Linda J. Williams, who has worked at SHS for the past 26 years.
All but one year of that time has involved working with laundry and janitorial duties. All told she's been with the school district for 28 years, including time as a teaching assistant.
"I enjoy the high school kids," Williams says of one of her favorite parts of the job. "The kids enjoy talking to me and it makes me feel good to help them."
As for staying with the work all these years, Williams she enjoys the variety of responsibilities.
"It's interesting," she smiles. "It's not a boring job, you never know what's going to happen."
While she enjoys the students at SHS, Williams says there are occasionally students who make her work difficult or are disrespectful.
Sometimes students who get in trouble at the school are required to help the custodians clean for a portion of the day. Some of those, Williams says, are hard workers while others can make the work day more difficult.
Each June when the school year is done, there's a summer break on the horizon for students and many school district staff members.
That's not typically the case for Williams, who retires at the end of this month. She says summer is the hardest part of the job for custodians at the high school.
"You're up and down on a ladder all day, sometimes you're down on the floor," she said.
That's because summer is when Sunnyside High School classrooms receive a deep cleaning. From the tops of the cabinets to the windows to the floors, all surfaces get a thorough scrubbing during summer.
Williams takes it in stride, though, as part of her work at SHS.
"I love it!" the ever-cheerful Williams says. "It keeps me busy and I'm not sitting down all day."