Wednesday, June 22, 2011
/lk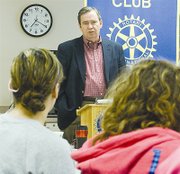 Yakima County commissioners didn't flinch from a controversial decision to have inmate fingerprints sent to immigration officials and the tainted water issue may not be as bad as first thought.
Those were two of the issues shared by County Commissioner Rand Elliott during a wide-ranging speech to the Sunnyside Daybreak Rotary Club this morning, Wednesday.
Elliott said commissioners made the decision to approve the Secure Communities program yesterday in the face of opposition from a large group of people at the meeting.
The move means that inmates booked into the Yakima County Jail will have their fingerprints sent not only to the FBI, but to U.S. immigration officials.
Elliott said the idea is for federal law enforcement officials to be aware of those committing serious crimes who are in this country illegally.
As for the nitrate-tainted water issue, Elliott said the county sent 8,000 water testing kits to residents who use private wells for water.
He noted 2,000 were sent back to the county for testing and of those, 12 percent were found to have nitrate levels at or above the EPA's acceptable threshold.
The total represents about 3 percent of the 8,000 test kits sent out.
While noting the water quality problem is serious, Elliott said reports in the Yakima media "sensationalized the issue."
Those initial reports estimated that 20 percent of the private wells in Yakima County were contaminated.
During his presentation this morning, Elliott also shared:
- The county planning department is in the process of simplifying codes to make them easier to understand and remove contradictions.
- Work continues on trying to obtain a reservoir basin for the Yakima Valley. Elliott noted the area's "ag-based economy" is in need of a water supply in case there were ever back-to-back drought years.
- Security measures are in place in the Yakima County Courthouse. "It's very exposed and courthouses are emotional places," Elliott said.
- The courthouse, which was built nearly 50 years ago, will receive an exterior facelift as well as work to update windows and interior walls.
- Yakima County continues to try and find inmates for its new jail built on the fairgrounds. Elliott said there have been some negotiations for housing inmates from other municipalities.