Wednesday, June 22, 2011
/lk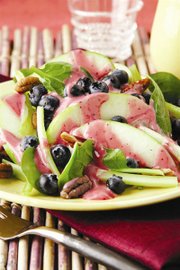 Oregon's fresh harvest blueberries are just about here and the good news is there will be plenty to enjoy this summer.
July is National Blueberry Month and the peak of Oregon's 60 million pound harvest. Oregon's blueberry production continues to increase, which means more fresh blueberries in the market than ever before.
Blueberries are packed with many nutritional benefits, particularly antioxidant compounds. These beneficial compounds help to immobilize free radicals in the body. Free radicals are implicated in the aging process, heart disease, memory loss, certain cancers and motor deterioration.
Other benefits of blueberries include improved vision, clearing arteries, strengthening blood vessels, stopping urinary tract infections and promoting weight control.
Important vitamins and minerals packed into blueberries include vitamins A and C, beta-carotene, niacin, thiamin, riboflavin, potassium, iron, fiber, calcium, magnesium, phosphorus, copper, zinc, manganese and sodium.
Just one-half cup of blueberries helps a person meet the USDA's recommended goal of five to nine servings a day of fruits and vegetables. The five-a-day color way program suggests that to achieve optimal health benefits, people should choose colorful fruits and vegetables daily from each of the five color groups. Blueberries are a member of the blue/purple group.
A half-cup of blueberries comes with about 40 fat-free calories.
BLUEBERRY WALDORF SALAD
1 cup fresh or thawed frozen blueberries, divided
1/4 cup vegetable oil
2 tablespoons orange marmalade
2 teaspoons lemon juice
1 teaspoon Dijon mustard
1/4 teaspoon salt
4 cups (about 4 ounces) baby spinach
1 tart apple (e.g. Granny Smith), cored and thinly sliced
2 ribs celery, cut into 1- 1/2-inch matchsticks (about 1 cup)
1/3 cup pecan or walnut halves, toasted
To prepare dressing: In a blender container, combine 1/2 cup of the blueberries, oil, marmalade, lemon juice, mustard and salt; blend until a smooth, thick dressing forms. In a bowl, toss spinach with apple slices, celery, pecans and remaining 1/2 cup blueberries. Arrange equally on four serving plates. Just before serving, blend dressing again until smooth; drizzle over the salads. Serve immediately.
YIELD: 4 servings
Per portion: 255 calories, 19 g carbohydrate, 20 g total fat, 2 g saturated fat