Wednesday, December 7, 2011
/lk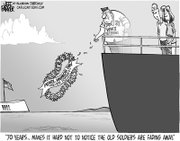 It was a time before television, when radio was king. The new-fangled source of news and entertainment for our nation.
It was an era of good times for most as the nation recovered from an economic depression.
To many people, it was the time of their young life.
In a flash those times were gone - along with thousands of lives - as Pearl Harbor was attacked. It was a day that would live in "infamy" - as President Franklin Delano Roosevelt told an anxious nation of the attack.
Words that Americans heard emerged through scratchy radio speakers - for it was this act of aggression that brought America into the Second World War.
Today, many may not remember Pearl Harbor, but almost all of us have first-hand experience of a terrible attack on our homeland.
September 11, 2001 will also be remembered for generations to come - just as we remember December 7th, 1941.
The events of that September day - that started out so routine - quickly brought to mind the attack on Pearl Harbor.
For too many years, the memory of December 7th, 1941 was slipping away. It's heartbreaking to know that it took another tragic event to get us all thinking about our history.
It's important for America to remember our history - the high and the low points. Pearl Harbor was certainly a low point.
We've come a long way as a nation and as a people since December 7, 1941.
From scratchy-sounding radio to high definition digital television pictures and sounds from hundreds of miles in space.
From railroads to airlines as a means of business travel.
From national highways to interstates for our cars that move faster, run longer and are safer to drive.
Amid all the technological changes, it is to those of us today to keep alive the tragic lesson of Pearl Harbor.
That is the challenge. The attack on September 11th serves as a stark reminder that as citizens of this great land of freedom - we all-too-often forget the lessons from history.
That is why we remember.
We remember those who made the supreme sacrifice on December 7th, 1941.
Taken in the prime of their lives by the all-consuming fires, explosions and strafing attacks, which rained down on them from a brilliant sun on what had started as a peaceful Sunday morning in Hawaii.
We know that remembering that day - is important to us - and to the future of our nation.
This is not a pleasant anniversary to recall. Yet, the bond that joins men and women in uniform draws us to such remembrances because it is our duty to help young Americans understand the terrible price our nation once paid for lack of vigilance.
On this anniversary we always recall those who lost their lives in the sneak attack.
On December 7th, I ask that we also remember those who survived that attack.
Men like Bud Donahoe of Valley Junction, Iowa, who after the war would settle in California. He was ashore - he'd been to Catholic mass and was leaving the chapel when the attack began.
His ship in the harbor was heavily damaged.
Many of his buddies died.
Bud would survive the war, but the memories and the anguish never let him rest easily.
There were many other "Bud Donahoe's."
It is our duty to them not to let our nation lose sight of the devastation those torpedoes, bombs and shells had on lives as well as hardware.
America survived that day of national disgrace.
America will survive the more recent attack.
But the memory of December 7th must remain etched forever in the mind of succeeding generations. Coupled with the images of September 11th they must paint the unforgettable collage of the price extracted by a lack of military preparedness.
"Remember Pearl Harbor" must ever be the symbol of the consequence of under-estimating the threats to peace and world stability.
December 7, 1941 was a terrible lesson.
For us to fulfill that obligation of a bond formed by our common experiences in uniform requires that we never allow this day to fade from the memory of our young citizens.
You and I pay no finer tribute to those whom we remember on this day than to ensure that the nation for which they sacrificed remains free and strong enough to preserve its freedoms, no matter what the future holds.
It is a history lesson worthy of retelling over generations.
It is a lesson that we forgot. Because we forgot we allowed history to repeat itself.
December 7th IS a lesson for all ages over the ages.
That is why we remember today.
Don't let anyone forget it.
- James Davidson is Department Chaplain of the American Legion Adjutant, Fred E. Hayes Post 57, Grandview