Tuesday, August 30, 2011
/lk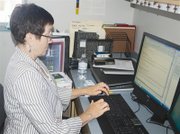 MABTON - Educational Service District 105 usually provides training and development for school districts around the valley, but in the case of Artz Fox Elementary, the ESD helped supply interim principal Ann Allen.
When Artz Fox Principal Angie Ozuna went on maternity leave, Superintendent Minerva Morales thought of Allen for the temporary slot because of her previous training work in the district. Says Allen, "The stars aligned," allowing her to take the job.
Allen has a lot of experience with both teaching and administration, having worked as a teacher and at almost every level of administration in the past. Her wide range of experience gives her a good perspective on the issues faced by students and teachers.
While in charge, Allen says she hopes to "continue to have a positive environment for students and staff. Kids want to come to school, staff want to be here." She would also like to work at developing a relationship with parents and bringing the community together to support the schools. She would like parents to be comfortable coming to the school.
Allen is happy to get back into a school for awhile after working at the ESD for about six years. As Learning Support Director she organized programs to target non-academic barriers that kids face, including substance abuse, bullying, harassment, safety and health. Her work as director was to see the big picture and bring together many different programs to get the maximum benefit from each for students in the area.
For the next few months, though, Allen is focused on one school rather than the entire region. Says Allen, "I'm just thrilled to be here."