Friday, August 12, 2011
/lk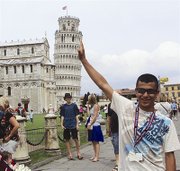 Sunnyside's Alexis Osuna this summer traveled to Europe as an ambassador for People to People.
Each year the organization sends letters to youngsters, inviting them to serve as ambassadors on educational excursions and in sporting events. The trips provide the youngsters the opportunity to travel to other countries, experience different cultures and learn something about the world beyond the scope of that which they are familiar.
Osuna, who will be a freshman at Sunnyside High School this coming fall, decided to take advantage of just such an opportunity.
His mother, Selene Zapata, believed the trip to Europe was worthwhile.
Although she is a single mother, Zapata said supporting her children in an effort to allow them the opportunities presented them is important.
"If opportunities are presented, we need to teach them (our children) by example," she said.
Zapata feels strongly that today's youth need to be taught honesty and integrity, so she helped her son set his goal and make a plan to reach that goal.
"I don't believe in making excuses for students not to be successful...hard work is important for teaching kids responsibility," she said.
To get Osuna to Europe, fundraisers were planned. They included car washes, raffles, selling tamales, detailing vehicles by appointment, selling soda pop and more.
"The community rallied behind us and several businesses provided sponsorships to help Alexis," said Zapata.
"Networking is important and I have shared that with my children...if you support your community, your community will support you," she said, stating she volunteers her own time to help various organizations in Sunnyside.
"I grew up here. I build good relationships," said Zapata, stating the relationships one develops also develops strong character.
"Building character and giving children the tools for success is important...I tell other parents their job is to parent first and be a friend second," she said.
Osuna said his mother's support helped him travel to five European countries. They included Italy, Austria, Switzerland, Germany and France.
"The purpose of the trip is to build foreign relationships, learn about governments, the economies and culture of other countries," said the teen.
He said he was most struck with the history lessons learned while in Europe. He hasn't yet been in a world history class, but learning about the Holocaust from a survivor was especially meaningful to the youngster.
Osuna stayed in Rome, Montecatini, Vicenza, Friesach, Vienna, Salzburg, Heidiland, Munich, Strausbourg and Paris.
The trip was a 20-day venture and the Holocaust survivor spoke with his group while they were in Austria near Mauthausen-Gusen concentration camp.
"We visited with him one day and the next day we visited the concentration camp," said Osuna.
Sharing the story, emotions shown in Osuna's eyes.
He said the survivor, Theresienstadt, shared Hitler's vision and philosophy.
"I was used as an example...I represented Jesse Owens," recalled Osuna.
He said the survivor told his group Hitler refused to shake Olympic Gold Medalist Jesse Owen's hand because of the color of Owen's skin.
"The concentration camps were set up with landscape that was stained with blood because Hitler wanted to create a perfect race," Osuna said.
"He (Theresienstadt) said a person shouldn't be judged on appearance, but on his heart and potential," said the teen.
"History became very real," he commented.
Osuna also recalled learning about the gladiators at the Roman Coliseum. He said he learned there were different types of gladiators and the group was taught about the different gladiator armor used during the gladiator games.
In France, Osuna said he was struck by the architectture of Notre Dame, the Eiffel Tower and the Louvre.
At the famous museum, the group was able to see the Mona Lisa and learned it was painted with a material similar to nail polish.
"It was a great trip...I had fun with my host family in Germany and learned a lot during the entire venture," said Osuna.