Thursday, September 30, 2010
/lk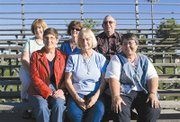 GRANDVIEW - The Yakima Valley Fair and Rodeo Foundation was started just a few years ago and the group seeks to raise funds for improvements to the Country Park/Yakima Valley Fair and Rodeo grounds in Grandview through fundraisers like its annual banquet and auction set for Thursday, Oct. 14.
This past year, the foundation has contributed funds raised at the event to projects like the new pathway and the purchase of new bleachers.
"Our theme is accessibility," said Martina Charvet, foundation chair.
She said the bleachers were purchased to provide those attending the annual rodeo a safe place to sit. The bleachers were purchased from Monson Ranches. The project involved students in FFA at both Grandview and Prosser high schools.
Charvet said the students removed the old bleachers and recently installed the newer stands for fans of the rodeo.
More than $7,000 has been donated by the foundation in recent years as a result of the annual banquet and auction.
The pathway at Country Park, said Charvet, was made possible through those contributions, giving community members who are in a wheelchair or suffering other handicaps easier accessibility to the grounds.
She said local businesses like Country Mercantile and Pacific Steel and Recycling also contributed to the pathway project.
Risa Stanton, this year's unofficial ambassador, suffers from cerebral palsy. She said, "The pathway makes the fair fun to attend."
The third annual Yakima Valley Fair and Rodeo Foundation banquet and auction will be held at Grandview's Blessed Sacrament Catholic Church on Oct. 14. The silent auction begins at 5:30 p.m. and dinner will be served at 6:30 p.m.
Catering the prime rib and salmon dinner will be Ernie and Laurie Charvet.
Live auction items include a Best Western golf package, two fresh Alaskan salmon donated by former Grandview High School teacher Ray Vining (currently a fisherman in Alaska), a Safeway gift certificate, a dinner at Whistlin' Jack's and a Hanford Reach jet boat tour.
Also at the dinner six supporters of the fair will be honored for their efforts.
Tickets for the event cost $50. Tables can be purchased, as well. A table for eight individuals costs $350.
To purchase tickets or a table, call 882-1368 or 882-1898.
Future projects of the foundation include a first aid and information booth, a sound system for the fairgrounds and improved lighting in the Beavan building.
Sponsorships for the projects are also available by contacting a foundation board member or calling the numbers above. Board members include Charvet, Cathy and Willard Mears, Carol Bos, Barbara Merz, Gail Boose, Karma Frank and Barbara Olmstead.