Wednesday, September 29, 2010
/lk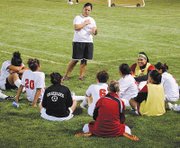 It was a better effort, but still a loss in the books as the Lady Grizzly soccer team fell 8-0 at home last night, Tuesday, to West Valley.
Sunnyside has been shut out in its last six games and been scored on 31 times during that span.
The visiting Rams scored three goals in a span of six minutes to take a 5-0 lead at the half.
Sunnyside slowed West Valley in the second half, but the Rams still mustered three goals over the final 40 minutes.
Despite the lop-sided loss, Sunnyside Coach Sylvia Villagrana said her team played better.
"The girls played very well, better than Saturday," she said. "They were coming to the ball more and marking their players."
Villagrana said her team could have held West Valley to maybe six goals, but a couple of mistakes allowed the ball to get behind the Lady Grizzly defense.
Sunnyside keeper Marisol Gomez recorded 12 saves against the Ram attack.
On offense, Villagrana said Sunnyside had 13 shot attempts, with the best chances coming in the first half.
"In the first half we had a couple of really nice opportunities," she said.
The coach praised the play of Analisa Van Oostrum in moving from sweeper to midfield and creating shot opportunities. "She came up with some nice, long passes, but their defense was pretty quick," Villagrana said. "But we did get close enough to have a nice shot on goal."
She praised the effort put forth by her entire team, noting "they really worked hard today. It was a hardworking loss."
Looking ahead, Sunnyside (0-6, 1-7) returns to action this coming Saturday at Kennewick.
Villagrana says her squad gained experience and confidence from last night's match that should help them prepare for Saturday's contest.
"They realized they can step it up, they have more to give," she said.
There's still plenty of work ahead, too.
"We will be working on our feet, doing a lot of sprinting to get more pressure on the ball," Villagrana says of her team's practices the rest of this week. "We have to get the girls to mark up quicker and be mentally ready for our next few games."