Friday, September 17, 2010
/lk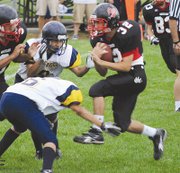 YAKIMA - It was anyone's match for a half, before the Lady Grizzly soccer team finally yielded to Davis 3-0 yesterday, Thursday.
Sunnyside and the host Pirates were deadlocked at 0-0 at the break, before Davis scored in the opening minute of the second half. The Pirates added a pair of goals in the final 20 minutes to seal the win.
"In the first half we were eager but we couldn't finish what we started," said Sunnyside Coach Sylvia Villagrana.
She said her team turned passive in the second half and didn't follow through with the passing attack.
"We had six really good scoring chances, four of them in the first half," Villagrana said. "The forwards were there but there was no one to pass the ball to. We didn't finish up the plays. It was frustrating to see that happen."
Sunnyside's best scoring opportunity was when Miranda Borrego crossed the ball to Ana Lugo for an open shot attempt that was snared by the Davis keeper.
With Sunnyside keeper Perla Ponce out the first half of the season with an ankle injury, the Lady Grizzlies received a strong effort from Ruby Herrera, who filled in at the net with 15 saves.
"She did an awesome job," Villagrana said of Herrera. "She saved a lot of close calls."
Sunnyside (0-2, 1-3) travels to Southridge High School tomorrow, Saturday.