Friday, November 26, 2010
/lk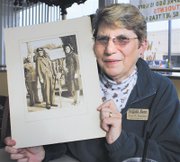 Joan Souders of Grandview is proud to be a Salvation Army volunteer bell ringer - after all, she started her long career when she was just 10 years old.
The Salvation Army in the United States dates back to 1865 and Souders says this faith-based organization has always had one clear mission in mind - to help people in need.
That was the message Souders grew up with, being the great-granddaughter of one of the earliest Salvation Army bell ringers.
The Red Kettle Campaign (the bell ringers) began in 1891 and Souders estimates that her great-grandmother, Edwina Lee, began the family tradition around the turn of the century. Since then, five generations have followed suit, including Souders and both her daughters.
"It's such a practical application of faith," she explained.
Souders' long career has sent her bell ringing across six states and the stories she and her friends and family have pulled away from the experience are enough to satisfy a soul for a lifetime. Souders encourages people to give it a try.
"There is no greater feeling than standing out there in the cold and seeing people put money in the bucket," Souders said. She added the feeling is remarkable just knowing that someone will be able to pay their rent or eat a meal because she took the time to ring a bell.
While Souders gave up working for the Salvation Army in 2002, she has continued to donate her time to the organization every year. This year, she and the Grandview Noon Rotary will take time on Friday, Dec. 17, to ring a bell outside the Grandview Safeway.
Bell ringers can volunteer as much or as little time as they want. Souders says that many people donate a lunch hour to ring the bell.
Money collected from the Red Kettle Campaign helps fund Salvation Army programs and projects, including aiding people with rent or utility costs, or buying food for people in need.
"It is really this concept of reaching out and helping people," Souders explains.
For more information on the Salvation Army, or to donate time to ring the bell for the Red Kettle Campaign, contact Fatima Ruelas at the Salvation Army at 509-882-2584 or 509-901-9581.