Wednesday, November 10, 2010
/lk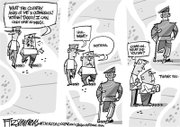 More than 100 years ago, President Teddy Roosevelt spoke to the residents of Springfield, Ill. about how vital it was for the government to keep its commitment to those who fought for our nation, our veterans.
He said that, "A man who is good enough to shed his blood for his country is good enough to be given a square deal afterwards. More than that no man is entitled, and less than that no man shall have."
Throughout our history, the United States has been blessed with men and women who voluntarily fought to protect us and all that our nation stands for. Each year on Nov. 11, we honor and thank the brave men and women who have served America in uniform. Their contributions to our great nation are immeasurable and their service reminds us of the price that accompanies freedom.
Veterans Day is a time to put aside whatever issues might otherwise divide us and honor those whose selfless service that protects the freedoms and liberties that are all too often taken for granted.
The work of those in our armed forces is both dangerous and difficult - requiring personal commitment and sacrifice, as well as the patience and support of their families, friends and loved ones. And for that we owe our military men and women a great deal.
Keeping our nation's commitment to our veterans must remain a national priority.
The federal government has a responsibility to our veterans that includes providing quality hometown health care and making sure that as soldiers return from defending our nation abroad they have all the support and services they need.
Helping veterans who are experiencing a problem with the VA or their benefits is an important part of my job as your congressman. If you need assistance I encourage you to contact my office at 509-543-9396 to learn if there is some way that I may be able to help.
Our veterans and the brave men and women currently serving in the armed forces deserve our thoughts, prayers and support on Veterans Day - and every day.
-Congressman Doc Hastings (R-Pasco) represents Central Washington's Fourth Congressional District.